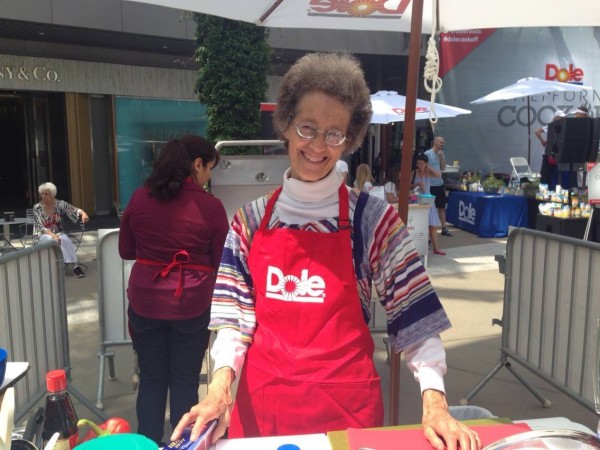 Roxanne's Story
I did not have an interest in cooking until college when one of my roommates was a home economics major. We used to create multi-course dinners for our boyfriends. Then I spent my junior year abroad studying in Vienna, traveling extensively from Spain to Russia, from Scandinavia to Egypt and all parts in between, picking up the flavors and fragrances of the visited cultures. When I married I became exposed to Asian cuisine; my father-in-law was a retired chef having owned a restaurant in LA Chinatown. I started married life using recipes from cookbooks. After a couple of years my husband suggested I try creating my own recipes and as they say the rest is history.
My contesting hobby began in 1980 starting with local and regional cook-offs and newspaper and magazine contests. In those early days newspaper food sections and national magazines were the primary source of contest information. Then the era of contest newsletters began and for about 15 years there were several monthly mailings to alert us contestors of current contests. Plus a small group of friends had a round robin letter with contesting news. In 1997 I became a charter member of CCC and the electronic age of contesting began.
I'm very fortunate to have been a consistent winner over my 35 years in the hobby. My favorite prizes have been the several dozen trips to cook-offs to greet old friends and meet new ones, including 3 times a Pillsbury finalist and 2 times each a National Chicken and National Beef finalist. Also I have been the lucky recipient of 1 1 /2 dozen domestic and international prize trips with culinary experiences in Tuscany and Provence and travel to Germany and New Zealand where we had wonderful visits with friends, being my favorites. My kitchen has been outfitted with large appliances and I've won enough processors, blenders, knife sets, KitchenAid mixers, bread machines, pots and pans, etc. to supply my son, nieces, nephews and other family members for life.  
Regardless of whether the prize is a case of pickles or a brand new car my thrill has always been the creative process, not the prize. I choose contests that fit my style of cooking. Using seasonal produce from my garden and drawing from a full pantry and freezer I enjoy developing nutritious easy to prepare recipes yet dishes that are full of flavor with textural contrasts and every dish has to look attractive. A creative twist on a cultural classic is one of my favorite ways of developing a recipe.
I hope to achieve my goal of 1000 award winning recipes; currently I sit at 983. I realize that the last 17 will  no doubt be the hardest. Regardless of whether I reach that goal of 1000 I couldn't ask for a more fulfilling and fun hobby and CCC has certainly contributed to that enjoyment. Thank you.