Baked Pimento Cheese Appetizers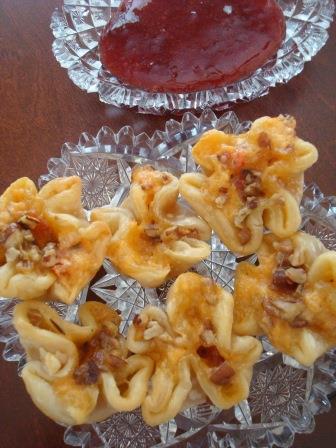 A Southern delight is enjoying a Pimento cheese sandwich. From church potlucks, to family gatherings, to baby showers Pimento Cheese is served. I took a classic and made it into a warm and crispy treat with a warm strawberry dip.
Ingredients
½ cup refrigerated pimento cheese (from a 12 ounce container)
4 slices cooked bacon, chopped
1 box refrigerated pie crusts, softened as directed on package
2 tablespoons finely chopped pecans
½ cup Strawberry Preserves
1 Tablespoon water
Instructions
In a medium bowl add pimento cheese and bacon; stir until combined. Set aside.
Heat oven to 375 degrees F. Working with one pie crust at a time. Unroll pie crust onto work surface. Roll crust into a 12 inch circle, using a 3 inch round cookie cutter, cut 8 circles from each crust rerolling dough if needed.
Spoon a heaping teaspoon of pimento cheese filling in the middle of each circle. Fold dough over filling; do not press down or seal; with fingers gently pinch sides next to filled center and push inward making a "+" shape. Gently fit rangoons in 16 ungreased mini muffin cups; sprinkle with pecans. Bake 13 minutes or until cheese has melted and crust is light brown. Allow to slightly cool in pan 2 minutes for the cheese to set.
Meanwhile, in small microwavable bowl, combine preserves, with water; cook uncovered in microwave on high 10 to 15 seconds or until preserves have thinned and heated thoroughly; stir.
To serve, remove warm rangoons from pan; place on a serving platter and serve with warm strawberry dip.
Notes
Nuts can be omitted. A precooked packaged bacon can be used to save time.