Black Forest Cheesecake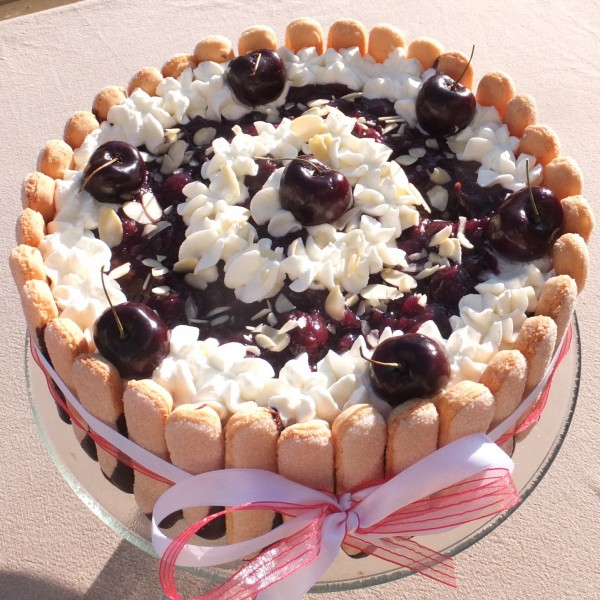 The ultimate in decadence: Chocolate cake baked into a chocolate cheesecake, topped with a chocolate almond pudding, whipped cream and kirsch cherry filling, all on a chocolate oreo cookie crust, encased by chocolate dipped lady fingers.. Black forest trifle is our family favourite, so I wanted to capture this beloved flavour combination in a cheesecake. But akin to our family's favourite trifle recipe, this cheesecake is much simpler to make than it looks!
Ingredients
2 cups Oreo chocolate baking crumbs
1/3 cup unsalted butter, melted
3 Tablespoons white granulated sugar
3 packages (8-oz each) cream cheese, at room temperature
1 cup ricotta cheese
2 Tablespoons cornstarch
pinch of salt
2 cups brown sugar, lightly packed
2 teaspoons vanilla
5 oz unsweetened baking chocolate, melted
4 eggs
3 cups chocolate cake, broken into small pieces (use left-over cake, a store bought pound cake, or bake a cake with a cake mix- any chocolate cake will do!
2 cans (14 oz each) pitted Bing cherries in syrup
3 Tablespoons cornstarch
3 Tablespoons white granulated sugar
2 Tablespoons kirsch
1 box (40 g.) Instant chocolate pudding
1-2/3 cups of milk
3/4 teaspoon almond extract
1 cup Whipping cream
1-1/2 Tablesoon icing sugar
1-1/2 Tablespoon piping gel
1/2 teaspoon clear vanilla
2 packages (125 g each) Lady Fingers
5 oz semi sweet chocolate (for dipping) –optional
2 Tablespoons slivered almonds
Length of ribbon (of your choosing) double the circumference of the cake
Instructions
To make crust: Preheat oven to 300 degrees and spray a 9-inch spring form pan with non-stick cooking spray.
Mix Chocolate oreo baking crumbs, 3 Tblsp sugar and 1/3 cup of melted unsalted butter in a bowl.. Mix until all the crumbs are moistened and a thick, crumbly paste forms. Reserve ½ cup for later. Press onto the greased springform pan. Level and press to the bottom of the pan using a rubber spatula and neatly taper at the edge. Cover the pan with plastic wrap and place in the fridge for 15 minutes.
Cheesecake Filling: In a stand mixer fitted with the paddle attachment, beat 3- 8 oz pkgs of cream cheese, 1 cup ricotta, 2 Tblsp cornstarch, and a pinch of table salt on medium speed, scraping down the sides of the bowl and the paddle frequently. Beat until very smooth and fluffy- about 5 minutes. Make sure the cheese has no lumps.
Add 2 cups of brown sugar and continue beating until well blended and smooth, then add 2 tsp vanilla and all of the melted unsweetened chocolate. Add the 4 eggs one at a time until just mixed- don't over mix. Fold in cake bits.
Pour a little of the batter over the crust and thoroughly spray 4 silicone muffin cups with non-stick cooking spray. Place the muffin cups on top of the batter, spacing evenly, but ensuring they are at least 1 inch away from the edge of the pan. Pour the remaining batter around, avoiding pouring into the muffin cups. If you do get some in, just wipe out. These will serve as the reservoirs for your topping. Optional: (You will have enough batter left over for 2-3 mini cheesecakes. Use reserved crust. I use the 5" X 1 3/8" aluminum foil meat pie plates. Bake the mini cheesecakes for ½ the time of the large cheesecake (about 30 minutes) .)
Bake at 300 degrees F (in water bath ) until the center jiggles like Jell-O when nudged- approximately 60- 70 minutes. When done, cool thoroughly, then run a hot, dry knife around rim to prevent it from sticking to sides. Refrigerate uncovered for a minimum of 8 hrs, but overnight for best results.
Topping: Cherries: Mix cherries in their juice, 3 Tblsp cornstarch, and 3 Tblsp of the white granulated sugar in saucepan. Cook over medium heat until thick and clear –about 5 minutes. Stir in kirsch. Chill.
Pudding: Beat instant pudding with milk until thick-about 2 minutes. Beat in almond extract. Chill. Whipped cream: Beat 1 cup whipping cream to soft peaks, then add 1 ½ Tblsp icing sugar, 1 ½ Tblsp of piping gel and ½ tsp clear vanilla to whipped cream and beat to stiff peaks
Dipping lady fingers: Melt the semi-sweet chocolate in a metal bowl placed over a pot of barely simmering water. Stir until smooth. Dip each ladyfinger a third into the chocolate and place on a clean parchment-lined baking tray to set (chill for a little, if needed).
Assembly: when cake is cooled and set, remove the cake from the springform pan and remove silicone muffin cups. These should come out very easily. Gently press each lady finger (lengthwise) to the side of the cake, (flush against each other), working your way around, until you cover the entire cake. Take a length of ribbon of your choosing (double the circumference of the cake to be safe) and gently tie around the lady fingers. Tie a bow at the front.
In the impression left by the muffin cups, spoon a little of the pudding, then cherries, then whipped cream into each reservoir. Top with the remaining pudding, spread evenly, then cherries. Fill a pastry bag with whipped cream (use 1M tip) and decorate around edge of cake. Garnish with fresh cherries (or maraschino cherries) Sprinkle with slivered almonds. Serve and enjoy! *
Notes
Please note, when you serve, it is best to serve in a bowl. Because of the weight of the fillings, the cake will be similar to trifle once it is cut. Top with additional whipped cream and slivered almonds, if desired.