Broccoli Apple Crisp With Salted Caramel-Maple Drizzle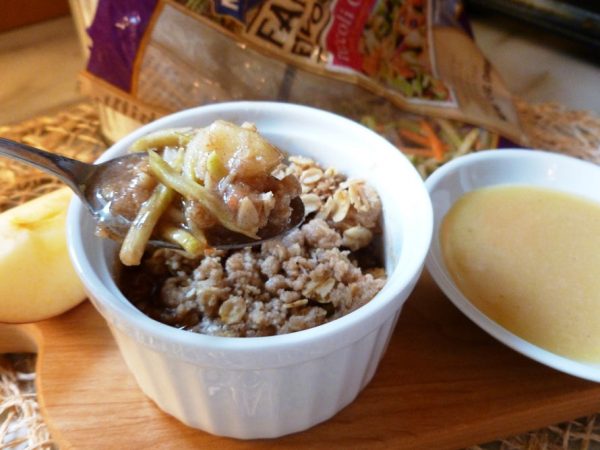 Individual apple crisps are made extra special with the addition of Mann's Broccoli Cole Slaw, a touch of lemon and the salted caramel-maple drizzle! It is quick and easy to prepare, and it will wow your guests!
Ingredients
10 tablespoons butter, softened, divided
3/4 cup brown sugar
2/3 cup all-purpose flour
1/2 cup old-fashioned rolled oats
1/2 teaspoon kosher salt, divided
2 teaspoons roasted Saigon cinnamon, divided
2 cups Mann's Broccoli Cole Slaw
2 cups apples, peeled, cored and cut into 1/2-inch cubes
1 teaspoon lemon zest
1 tablespoon lemon juice
2/3 cup granulated sugar, divided
3/4 cup evaporated milk
1/4 teaspoon imitation maple extract
Instructions
Spray 8 ramekins with no-stick cooking spray.
Preheat the oven to 375 degrees F.
In a medium bowl, stir 6 tablespoons of the butter, brown sugar, flour, rolled oats, 1/4 teaspoon kosher salt, and 1 teaspoon of the cinnamon until blended and crumbly.
In a large bowl, toss the broccoli cole slaw and apples with the remaining 1 teaspoon of cinnamon, the lemon zest, lemon juice, and 2 tablespoons sugar. Spoon the broccoli-apple mixture into the buttered ramekins. Sprinkle with the topping. Set the ramekins on cookie sheet.
Bake for 25 minutes or until the juices from the fruit are bubbling and the topping is brown.
Meanwhile, prepare the sauce. Melt remaining 4 tablespoons butter in heavy medium saucepan over medium heat. Add remaining sugar. Stir until sugar melts and mixture is thick and boiling. Slowly stir in evaporated. Bring sauce to a boil, stirring often. Boil for 3 minutes, or until sauce thickens. Remove from heat. Stir in remaining 1/4 teaspoon kosher salt and maple extract.
Cool for 10 minutes. Drizzle with Salted Maple-Caramel Sauce before serving.