Carrot Cake Gingerbread Dessert Pizza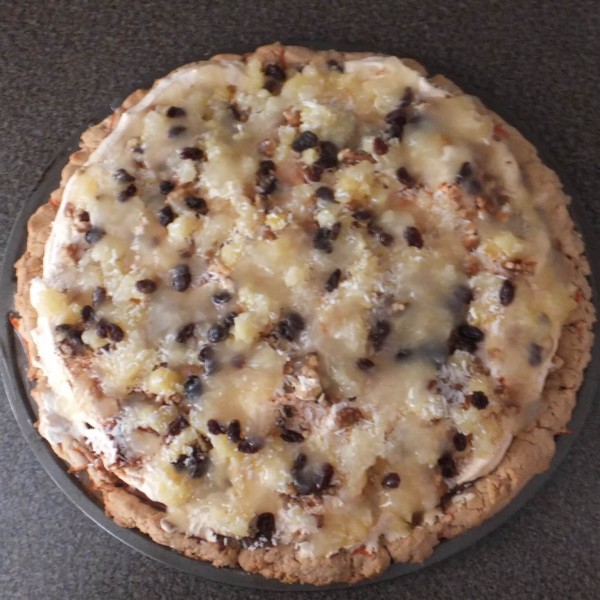 Carrot cake, chocolate cream cheese, whipped cream, cookie pizza crust… these are the ingredients that scream decadent to me! I love carrot cake, gingerbread and dessert pizza, so this seemed like the perfect combo! I brought this to a party and it was a huge hit, even with those who don't like gingerbread. The gingerbread is creamy and mild – it melts in your mouth!
Ingredients
Gingerbread pizza crust Ingredients:
2 1/4 cup flour
1 teaspoon cinnamon
1/2 teaspoon ginger
1/8 teaspoon salt
1/4 teaspoon baking powder
1/2 cup light corn syrup
1/2 cup packed light brown sugar
1/3 cup margarine
1/4 cup cream cheese, softened
Carrot cake pizza toppings
1 container chocolate cream cheese (250 g)
2 cups whipped cream- with granulated white sugar added to your liking ( I use 1/4 cup) – whipped topping can be substituted
1 (128 ml jar) of pureed carrots (baby food) OR ½ cup cooked and pureed carrot
1 teaspoon vanilla
1 teaspoon cinnamon
398 ml can crushed pineapple, drained and squeezed dry
3/4 cup toasted walnuts
1/3 cup Raisins-optional
1/4 cup medium (preferably) unsweetened coconut flakes
1/2 cup orange juice
1/4 cup lemon juice
1/2 cup water
2 Tablepsoons cornstarch
3/4 cup white granulated sugar
Instructions
Gingerbread Pizza Crust: Preheat oven to 350 degrees F. Spray 12 inch pizza pan with non- stick cooking spray.
Stir the dry gingerbread ingredients (flour, cinnamon, ginger, salt and baking powder) together in a large bowl. Set aside.
Combine light corn syrup, light brown sugar and margarine in a 2 quart saucepan. Stir constantly over medium heat on stove top until margarine is melted
Stir the liquid into the flour mixture, then add the softened cream cheese. Mix well with a spoon, then using hands as dough becomes stiff.
Chill the dough until it is easy to handle (about 10 minutes). Roll the dough out to ¼ inch thickness directly onto pizza pan . Make it a little thicker at the edges, as a pizza crust would be.
Bake pizza crust for 20 -25 minutes in preheated oven or until edges begin to brown lightly. Cool completely.
Pizza Topping: Spread 1 container ( about 1 cup) of chocolate cream cheese over the gingerbread cookie crust.
Mix pureed carrots with whipped cream and 1 tsp cinnamon and spread over top of cream cheese.
Sprinkle crushed pineapple, raisins (optional), toasted walnuts and coconut over pizza.
Glaze: mix ingredients together in small saucepan and heat over medium on stove top until thickened. Cool slightly and drizzle over pizza and serve. This can also be chilled to serve at a later time.
Notes
You can cook and puree carrots for this recipe, but why go to the effort when you can just use a jar of baby food. I learned this trick when my kids were babies and I had baby food around. They are much older now, but I still buy pureed carrots for several recipes (it's great to sneak into recipes like spaghetti sauce etc)!