Fig and Blue Cheese Savory Palmiers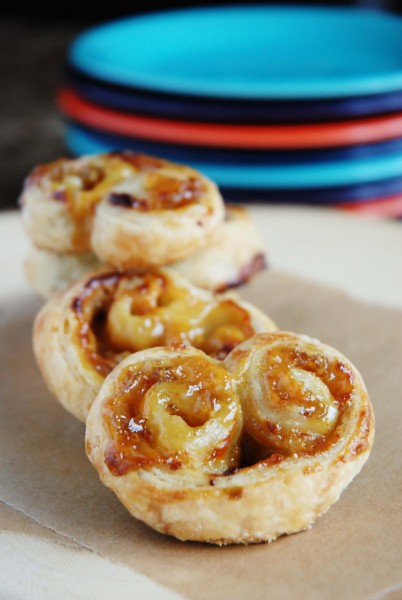 This appetizer couldn't be quicker, easier or more delicious! For a last minute gathering or company these are perfect with a glass of wine!
Ingredients
1 Tablespoon flour
1 17.3 ounce package Puff Pastry Sheets, thawed
1/2 cup fig preserves
½ cup blue cheese crumbles
Instructions
Pre-heat oven to 400 degrees.
Sprinkle the flour evenly on a flat surface such as wooden board or countertop. Unfold each sheet of puff pastry onto the flour and gently press to flatten the seams. Spread each sheet evenly with the fig preserves and then sprinkle evenly with the cheese. Starting at both short sides, roll the pastry toward the center.
Using a serrated knife, slice each pastry roll into 12 slices and place, cut side up, on baking sheets lined with parchment paper. Bake for 18-20 minutes or until browned and golden.