Strawberry Breakfast Trifle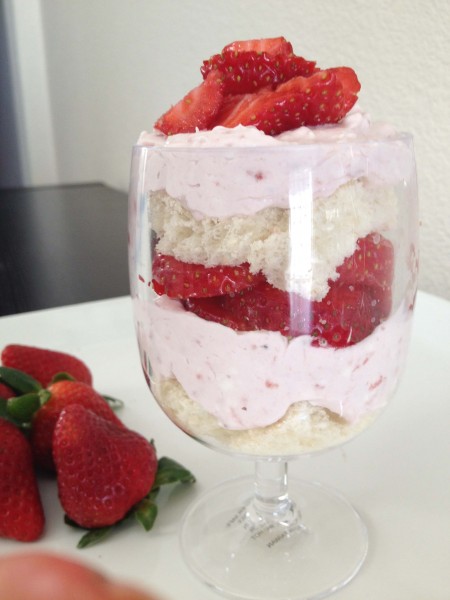 The stunning appearance of this trifle is always a winner at my breakfast table. It is such a change from the usual breakfast options. I love the fact that it comes together in minutes and tastes amazing . Any type of soft white bread (crusts removed) can be used in the recipe. The trifles can be assembled in large wine glass or small trifle cups.
Ingredients
8 cups Bread , cut into 1/2 inch cubes
4 ounces Cream cheese, room temperature
6 Tablespoons Bonne Maman Strawberry Preserves
1 cup Heavy whipping cream
2 teaspoons Lemon juice
1 teaspoon Vanilla extract
8 Strawberries, sliced
Instructions
Have 4 glass serving dishes ready.
In the bowl of your electric mixer, or with a hand mixer, whip the cream cheese, Bonne Maman Strawberry Preserves, cream, lemon juice and vanilla extract until soft peaks form.
To assemble: In the bottom of a glass dish place 1 cup of the cubed bread. Spoon 1/4 cup of the strawberry cream over the bread. Arrange few sliced strawberries on top.Repeat layer again.
Repeat process for the remaining 3 dishes.
Cover and refrigerate 1-2 hours before serving for flavors to mingle.
Notes
The recipe can be easily doubled and arranged in a large trifle bowl.