Zucchini Appetizers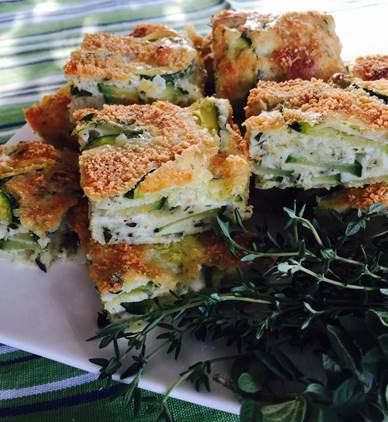 My neighbor grows the most wonderful selection of herbs and I am a lucky recipient. The fresh herbs brighten and intensify this recipe. But, you can substitute dried herbs just as well -use 1/2 the amount of dried herbs as listed in the recipe.
Ingredients
4 cups thinly sliced zucchini (about 4 small)
1 cup baking mix
3/4 cup grated parmesan cheese, divided (1/4 cup for sprinkling on top)
1/2 cup finely chopped onion
2 Tablespoons lemon thyme or regular thyme, finely chopped
2 Tablespoons marjoram, finely chopped
2 Tablespoons parsley, finely chopped
2 Tablespoons oregano, finely chopped
1 garlic clove, minced
1/2 teaspoon salt
1/4 teaspoon pepper
1/2 cup olive oil
4 eggs, beaten
Non-Stick Cooking Spray
Instructions
Preheat oven to 350 degrees.
Spray a non-stick 13 X 9 pan with non-stick cooking spray. In a large bowl, mix all the ingredients well and spread evenly in the pan. Sprinkle the reserved ¼ cup parmesan cheese evenly on top.
Bake until golden brown, about 25-30 minutes. Cut into rectangles about 4" X 2" or 2" X 1". Serve warm or at room temperature.