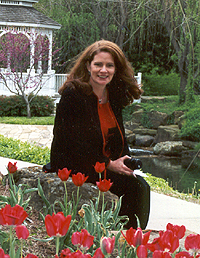 Elaine Sweet began entering recipe contests toward the end of 2000. The first national contest she entered was for Knorr's Seasoning, and she ended up winning one of the First Prizes. That was all it took to hook her into this fun hobby. The first cook-off she was a finalist at was the Spice Islands Cook-Off in March 2002 in Napa Valley, Calif.
"I'm a CPA by profession," she says. "It wasn't enough to just cook the books. My husband has always been very supportive of my contesting. I love to cook and to experiment and Milton loves to eat!"
NOTABLE WINS: First Place, 2001 BlueBonnet Bake It Better Contest — Cake category; First Place, 2001 Cookshack Smoker Contest; First Place 2001 Chile Pepper Magazine; First Place 2001 Kraft Diabetic Choices; First Place, 2002 Reynolds Pot Lux Cookware Contest; Grand Prize, 2001 Dare Crackers 15 Minutes of Fame; Finalist, 2002 Spice Islands Cook-Off; Finalist, 2002 McCormicks Blend to Win Challenge; Finalist, 2002 Gilroy Garlic Festival Cook-Off; Grand Prize, 2002 Elvis Style Seasoning; Grand Prize, 2002 Favorite Name Brands Recipes Casserole Contest; Finalist, 2002 Nestle USA Best Dressed Meals; Finalist, 2003 Louisiana Original Hot Sauce; Finalist (Texas), 2003 National Chicken Cook-Off.
FUNNIEST PRIZE: "The Certified Angus Beef Commission was a big sponsor of the 2002 Olympics. I won a quarterly prize from them that included a cowbell made out of Norwegian artillery. Fortunately, my husband is a schoolteacher and that cowbell has a place of prominence in his classroom."
ADVICE: "As of everything, do your best. Stay current with food trends and incorporate these trends into your submissions. Be brave in your usage of spices and combinations of ingredients. If I really tried hard on a particular contest and didn't win, I'll go back and study the wins to try and understand what the judges were looking for"
FORUM NICKNAME: Elaine