Learn more about the Cooking Contest Central mission and community.

Why become a CCC member and how to join.

Stay up to date on culinary and contest tips, trends, travels, and more!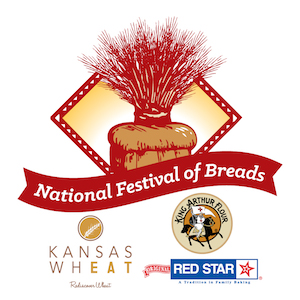 2017 National Festival of Breads
Entries for the 2017 National Festival of Breads, sponsored by King Arthur Flour, Red Star Yeast and the Kansas Wheat Commission, are being accepted through January 16, 2017.
Adult amateur bakers and youth bakers can submit original recipes at nationalfestivalofbreads.com. 
Eight adult finalists will receive $500, airfare and accommodations to participate in the national competition on June 17, 2017, in Manhattan, Kansas. The grand prize winner will receive $2,000 cash and a trip to attend a baking class at the King Arthur Flour Baking Education Center in Vermont.
Testimonials
What our members are saying about us.
"I have enjoyed cooking for as long as I can remember. When I discovered recipe contests, I found it was a fun way to spur my creativity to come up with a recipe that used a required product or met a specific criteria like light and healthy. The lifelong friends I have met along the way have been an unexpected and delightful surprise. CCC is the best tool I have found to learn about all the new contests to enter and then later see what wonderful recipes have won all those great prizes."

"For us, belonging to CCC is like having our own "Personal Assistant". CCC provides an invaluable service, one that relieves us from the most time consuming tasks associated with contesting: finding current contests along with their rules and requirements. All this, in addition to providing continual support and assistance. In other words, freeing up our time for the fun part, coming up with recipes, sometimes even prize winning ones!"

"I love the CCC website! As soon as I joined I felt like I had found 'my people!' We love to be creative with food, try our hand at recipe contests and be supportive of each other! The Deadline Contests list is so handy for me. At a glance I can look at the dates and codes to see which contests I may want to try entering."

"This hobby has taken me on some amazing adventures from Korea to Italy and many places in between, but had it not been for the contest listings and direct links found on CCC, I might not have ever discovered such exciting opportunities! A priceless perk that I never imagined my membership in CCC would introduce me to is the friendships I've developed with an amazing group of talented and knowledgeable like-minded contesters."

"When I joined CCC in 2008, I never anticipated the number of ways in which it would change my life. Winning cook-offs and recipe contests has not only led to opportunities such as appearing on the Food Network, attending the Super Bowl and rubbing shoulders with celebrity chefs at the Aspen Food and Wine Festival, but it has given me the confidence to pursue culinary ventures outside of competitive cooking (my first cookbook will be published in 2013!) Most important though, I have made so many friends through CCC, astonishingly talented, supportive and generous friends who inspire me daily and challenge me to be a better cook. I am very proud to be a part of this group!"