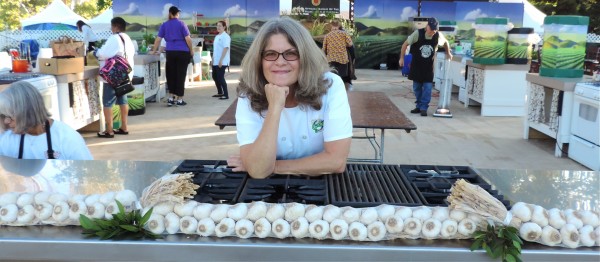 Merry Graham is a Southern California award-winning home cook, published author, grandma to 6, and an all around Foodie! She has appeared on Food Network's Clash of the Grandma's (2015), as a top 3 finalist on The Rachael Ray Show's Great American Cookbook Competition (2014), and on the World Food Championships (2012 – 2015). In 2012, Aetna and Bobby Flay named Merry the "The Healthiest Cook In America" – and splashed her face, title and dish across the marquee at Times Square!
A self-taught cook, Merry was introduced to the enjoyment of culinary challenges in her early twenties when she volunteered to cook daily lunches for 40 workers at her church. The challenge came as Merry opened a mystery day-old box of ingredients donated from a local commissary. "I was doing Chopped before Chopped ever existed!" she jokes.
A homemaker and mother of four (including twins), Merry had plenty of practice in the kitchen over the course of her child-rearing years. She whipped up nutritious, fast and kid-friendly meals for health and financial reasons. "My whole focus was to develop healthy kids in all areas; physically, academically, spirituality, and in the sweetness of their souls! In a way, making my children homemade healthy food truly fed them in all four areas!"
Talk about a supermom, in addition to getting three meals-a-day on the table, Merry home-schooled all of her children from grades K-12, founded support groups, and ran a successful swimming school, Merry School of Fish, for 15-years.
In 2009, Merry discovered the world of competitive cooking, ironically through an essay contest. She entered, and won, an all-expense paid trip for two to the Aspen Food & Wine Festival, by submitting a paragraph on how she "lives in the green".
Merry states, "While sipping wine and nibbling delicious morsels in Aspen, I realized I was a Foodie! I found my tribe!" She immediately went home and Googled "win food and wine festival", which led her right here to www.cookingcontestcentral.com and a variety of cooking contest resources.
The very first recipe contest Merry entered was in the Z'Tejas Southwestern Grill's Chile Fest Dessert contest. She entered a single recipe and won! Her winning dessert "Chocolate Chile Lime Shooter" was featured on the restaurant's menu for the following month and she received a private dinner for 10, prepared by the Z'Tejas Executive Chef.
As a competitive cook, Merry's biggest wins have included three $10,000 checks, a $25,000 check, and a trip for two to Scotland! Three continents, seven states, 25 live cook-offs, countless recipe contest wins, and over $130,00 in cash, travel, and prizes… the rest is history!
Today, Merry can be found in her Santa Clarita, California kitchen, creating a tasty new recipe, tackling a challenging contest, or cooking up a delicious meal for family and friends. A hands-on grandma, Merry especially loves welcoming her grandkids into the kitchen and passing along her love for cooking with Hadley, Olive, Frankie, Cassidy, Jeremiah and Baby Grayson.
At 61-years-old, Merry shows no signs of slowing down. She swims regularly, travels the world with her husband of 39-years, and loves cultivating friendships with the other competitive cooks and foodies friends that she meets along her travels. "The best prize I've won through contest cooking is the wonderful community of passionate, kind, talented, friends that cook! I receive so much culinary and life inspiration from them all! It is amazing that we can compete against one another yet still cheer when we lose and they win!"
Yes, Merry has become quite the fixture in the world of competitive cooking, securing her title as, arguably, one of the best. But, though we all may know her as a "winner", "tough competitor", and a "damn fine cook", the heart of Merry Graham, who she is and what she's about can simply be summed up by reading the welcome note on her website, A Merry Recipe:
Step into my kitchen. You are welcome in my home.
The door is always open.
Come sit at the counter and I'll make you a warm bite.
Let's talk about the week, our dreams, adventures, hardships and blessings.
Stay for dinner… there's always room for one more at my table!
 Step into my kitchen and share a slice of this delicious life with me.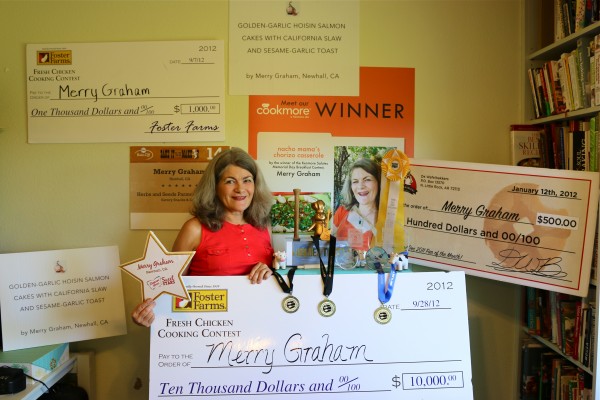 Finalist and Grand Prize Wins
2015 Chevron Game Day Chef Challenge
West Regional Winner Cook-off
Pass The Pig Skin Pork Cones
2015 Open Blue Cobia Cook-off
Grand Prize Winner Cook-off
Vietnamese Open Faced Cobia Tacos
2015 Glorious Bites Challenge 2-Cook-offs
Regional Winner Cook-off
Crowd Favorite Award Winner
Lemongrass & Ginger Crab Crisps with Asian Apple and Vietnamese Avocado Mash
2015 Saucy Mama Recipe Contest
Grand Prize Winner
In-or-Out Ham and Cheese Melts
2015 Food Network Clash of the Grandmas Thanksgiving Special
Televised Cook-off finalist
2015 World Food Championships
4th Place in Sandwich Category Cook-off
2015 Gilroy Garlic Festival Great Garlic Cook-Off
Finalist
Golden Garlic Hoisin Salmon Cakes with California Slaw and Sesame-Garlic Toast
2015 National Festival of Breads Cook-off
Finalist Curry & Chia Onion Buns
Soy Award Kale & Goat Cheese Artisan Olive Bead
2015 Great American Sandwich Challenge
Finalist
Spicy Lemon-Honey Berries on Creamy Almond Butter Toast with Mint and Basil
2014 Rachael Ray's Great American Cookbook Competition
Finalist 3rd Place Cook-off
2014 47th Annual Pillsbury Bake-Off Contest
Winner Gluten Free Sponsor Award
Herbs and Seeds Parmesan Crackers
2014 Del Real Top 5 Bloggers Recipe Challenge
Winner (1 of 5)
Quick Chicken Dinner Chilaquiles
2014 Hodgson Mill's Have GRAIN Holiday Baking contest
Winner Best Tasting Category
Healthy 'n Spiced Gingerbread Cranberry Crumb Cake
2014 The McCormick Pin it to Win it Contest
Grand Prize winner
2014 Guilt-Free Potato Goodness Recipe Contest
Finalist
Roasted Fingerlings, Asparagus, and Red Pepper Salad with Avocado
2014 World Food Championships Cook-Off
4th place Sandwich Category
2014 Reser's America's Best Potato Salad Challenge Cook-Off
Finalist
Roasted Corn & Poblano Potato Salad with Creamy Salsa Verde Dressing
2014 Chevron Game Day Chef Challenge Cook-off
Regional Finalist
Caramel Cashew Toffee Peach Pass-Off Trifles
2014 Chiquita Banana Cooking Lab Contest
Finalist
2013 Kenmore 'Fleet Week' Recipe Contest
Grand Prize Winner
Nacho Mama's Chorizo Casserole
2013 Alter Eco Quinoa Recipe Contest
Grand Prize Winner
Indian Inspired Quinoa Street Taco with Fresh Fig Salsa
2013 US Highbush Blueberry Council's "Blueberries Meet Their Match" Blogger Recipe Contest
Grand Prize Winner
Blueberry-Coconut Chicken Soba Noodles
2013 Duncan Hines Test Kitchen Sweet Stars Baking Contest
Finalist
Chocolate Crusted Tart with Orange Yogurt Crème and Fresh Raspberries
2013 National Festival of Breads
Finalist
Light and Fluffy Whole Wheat Rolls
2013 Lucky Leaf Buckle Cake
Finalist
Coconut-Almond Cherry Buckle Cake
2013 Beringer Great Steak Challenge
Finalist
Smokey Chili-Allspice Flap Steak Nachos with Grilled Grapes & Corn and Salt & Peppercorn King Salmon on Cherry Plank with Grilled Fresh Fig and Asparagus
2013 World Food Championships Cook-off
4th place Sandwich Category
2013 Trump International Beach Resort Holiday Recipe Contest
Finalist
Pancetta and Kale Quiche with Brie, Fontina and Herbs
2013 Rumba Meats Savor The Pride Photo Contest
Winner 1st Week
2013 Grapes from California "One Ingredient That Can Change Everything" recipe contest
Finalist
Tri-Grapes Blue Corn Chip Nachos with Chorizo and Roasted Corn 
2012 Maple Leaf Farms
$4,000 Grand Prize Winner
Citrus Sesame Duck with Snappy Cherry Soba Noodles
2012 Foster Farms Fresh Chicken Contest Semi-finals Cook-off
Winner $1,000
Lemon-Hoisin Glazed Chicken on Roasted Asparagus and Cherry Sesame Rice
2012 Foster Farms Fresh Chicken Contest Cook-off
Grand Prize $10,000 Winner
Lemon-Hoisin Glazed Chicken on Roasted Asparagus and Cherry Sesame Rice
2012 Scharffen Berger The Chocolate Adventure Contest
Grand Prize $25,000 Winner
Margarita Moon Pies
2012 De WafelBakkers Pancake Contest
Grand Prize Winner
Breakfast Pancake Muffins
2012 Sustainable Recipe Challenge
Grand Prize Winner
Minted Strawberry Avocado Salsa
2012 Taste of Home Quick Cooking Annual Cookbook
Finalist
Maple-Glazed Green Beans Recipe
2012 Earth Balance
Best Photo Award
Strawberry Jicama Salsa with Coconut Tortilla Chips
2012 Jell-O Gelatin Easter Recipe Challenge
$1,500 winner
Strawberry Lemon Charlotte
2012 Valley Fig Growers Fabulous Fig
Finalist
2012 NatureSweet Cherry Tomato Challenge Cook-off
Finalist
2012 Fleischmann's Yeast Sandwich Bread Challenge
Homemade Slider Buns
2012 Just A Pinch WFC qualifier
Finalist
Cherry Sesame Noodles with Lemon-Hoisin Sauce
2011 Georgia Aetna Healthy Food Fight Semi Cook-off
Winner
Black Bean and Sweet Potato Porridge with Jicama Pico de Gallo
2011 Aetna Healthy Food Fight Cook-off NYC finals
Grand Prize $10,000 Winner
Black Bean and Sweet Potato Porridge with Jicama Pico de Gallo
2011 Bob's Red Mill 'Spar for the Spurtle' cook-off Portland
Grand Prize Winner
Black Bean Porridge Patties with Black Bean Pico de Gallo
2011 Golden Porridge Spar for Spurtle Scotland Cook-off
Finalist
Black Bean Porridge Patties with Black Bean Pico de Gallo
2011 Blueberry Fresh Food Challenge
Grand Prize Winner
Blueberry Glazed Roasted Chicken with Blueberry and Pecan Quinoa Pilaf
2011 Unbelievably Good' Gluten-Free Recipe Contest
Finalist
Fan-RUDI-astic Yammy Quiche
2010 Ocean Spray Ultimate Cranberry Recipe Contest
$10,000 Winner
Caramelized Cranberry-Mushroom Galette
2010 Mezzetta 'Make That Sandwich' Recipe Contest
Vegetarian Winner
Grilled Brie Sandwich with Cherry Pepper Pesto
2010 California Strawberry Festival Cook-off
Grand Prize Winner
Snappy Shrimp and Strawberry Coleslaw with Hotty Maple Vinaigrette
2010 Peanut Butter Lovers Contest
Grand Prize Winner
PB, Strawberry and Basil Sandwich
2010 'Mad About Mushrooms' Recipe Contest
Grand Prize Winner
Smoky Caramelized Mushroom Pear Galette
2010 Betty Crocker's Fall Baking Recipe Magazine Contest
Finalist
Caramel-Spice French Breakfast Muffins
2010 Bartender Magazine' The Finest Call Maraschino Cherry Contest
3rd place
Tropical Cherry Jewel
2010 Dr. Grandma's Recipe Contest
2nd Place
Spiced Avocado-Orange Pecan Muffins
2010 Mr. Bacon Pants Easter Bacon Contest
Grand Prize Winner
Fruity Bacon Upside Down Corn Bread with Orange Marscarpone Cheese
2010 Annie Chun's Recipe Contest
Finalist
Spicy Peanut Chicken Lettuce Wraps
2009 Z'Tejas Chile Fest Dessert Contest
Grand Prize Winner
Chile Chocolate Lime Shooters