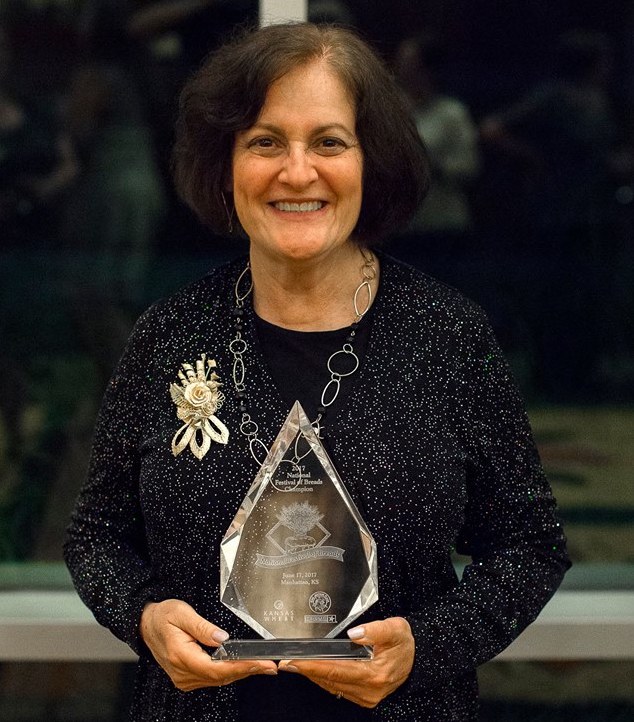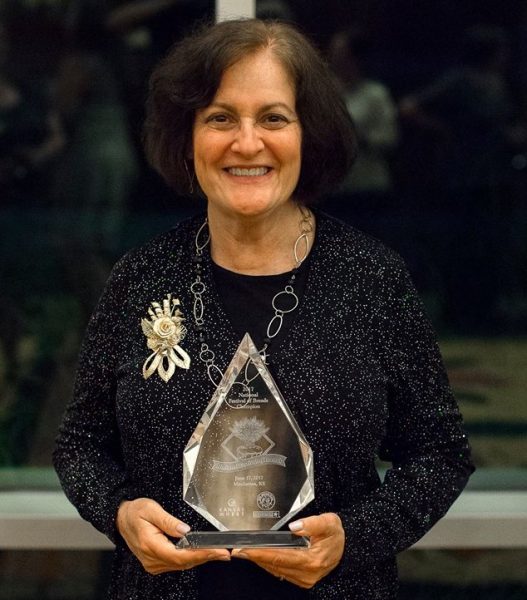 Congratulations on your induction into the CCC Hall of Fame! Tell us a little bit about yourself.
I am thrilled  and honored to have been chosen as the 2018 CCC Hall Of Fame winner! I am a mother of 2 and a grandmother of 3. I've lived in Maryland my entire life. I've been a cashier for the grocery chain Giant Food for 34 years and I plan to retire in May 2020. I like getting ideas for cooking contests from the items I see go across my grocery belt! My customers are always asking me if I have won any contests lately, and they love hearing about my cooking adventures! Also I enjoy gardening, crafts, painting, sewing and photography. I don't make a lot of sweets on a regular basis because because I know my husband and I would gain too much weight. He does enjoy when my contest entries are cookies or other snacks!
When it comes to cooking or creating recipes, who or what inspires you?
My original inspiration was my mother who let me help her when I was a little girl in her kitchen. She had entered cooking contests like the Delmarva Chicken Contest and a National Pork Contest in the early 1970's and she was a big fan of the Pillsbury Bake Off! She also used to enter in-store contests and she won things like a chest freezer and a Redskins jacket. When I was very young, she would give me a piece of fat and a knife and I would play "Butcher Shop". I loved all of the home economics classes but especially cooking class. I enjoyed helping other students with things like learning to pressure cook and I would do the jobs no one else wanted like cutting up a whole chicken.
These days I am inspired by the new cooking trends or new products. A lot of th time I just get an idea in my head and go from there!
How did you get started in cooking contests?
I was interested in cooking contests from the time I was a teenager. When I was a newly married young 20 year old, I entered and became a finalist at the 26th Pillsbury Bake Off in 1975 in San Francisco, CA. I entered again off and on for many years but was not selected. I finally became a finalist again for the 42nd Pillsbury Bake Off, 2006 in Orlando, FL. I found this out in December, 2005. Soon after, I became a Cooking Contest Central member when I was told on another website that Pillsbury Bake Off finalists were chatting there. I've been a member ever since! I am so thankful for CCC because without it, I wouldn't have known about many contests that I have entered and enjoyed over the years! And, of course, I treasure the memories and all of the wonderful friendship I have made along the way! I have found that my cooking contest friends are my true life long friends whether they live near or far and we always have so much fun together!
Can you tell us some of your favorite or most notable contest wins?
1975 Pillsbury Bake Off finalist, 2000 Hall Of Fame recipient, 2006 Category Winner, 2011 Bake Off Monthly Challenge winner and 2019 finalist
2010  Aetna Healthy Food Fight Challenge finalist, Kennett Square, PA
2011 The Vinegar Institute's (VI) "Summer Meat Grilling and Cooking" Grand Prize winner
2011 V.I.P. Dairy Farm Experience winner
2011 How Do You Tam Tam Contest finalist
2011 Recipe4Living Valentine's Day Recipe Contest winner
2012 Manischewitz Cook Off finalist and 2014 All Stars Cook Off finalist, NYC
2012 National Cornbread Cook Off Finalist and 2016 Grand Prize winner, South Pittsburgh, TN
2012 Auntie Anne's Baking Kit Recipe Challenge Fan Favorite winner
2012 Crisco Cook Off finalist, Nashville, TN
2012 Pomegranate Cocktail grand prize winner
2012 Better Recipes Breakfast weekly contest winner
2013 McCormick Gourmet Go 4 Gourmet Contest first prize winner
2013 Better Recipes "Best Appetizer Recipe Ever" weekly contest
2013  Wright Brand Recipe Contest winner
2013 All You blog contest with Glad winner
2013 Better Recipes "Best Meatball Recipe Ever" weekly contest
2013 Grandparents.com Casserole Contest winner
2014 Pinata Cake Pan Giveaway, CCC
National Oyster Cook Off finalist 2010, 2011, 2013, 2015, 2016, 2017, 2018 Leonardtown, MD
World Food Championships, 2013, Las Vegas, NV; 2014, Las Vegas, NV; 2015, Kissimmee, FL; 2017 Orange Beach, AL
2014 Riunite Chili Cook Off regional winner, Baltimore, MD
2014 Riunite Chili Cook Off  national finalist, San Diego, CA
2014 Jones Dairy Farm Contest Grand Prize winner
2014 Mid-Atlantic Dairy Association breakfast recipe contest winner
2014  "Share Your Sizzle" beef photo contest, 3rd place winner
2014 McCormick Gourmet Go 4 Gourmet Contest, First Prize winner
2014  Grokker's Prime Cut Contest winner
2015 Ocean Spray "Surprisingly Versatile" Grapefruit Recipe Contest, Third Prize winner
2015 National Festival Of Breads finalist and 2017 Grand Prize winner, Manhattan, KS;
2016 Mann's CCC Recipe Contest: Runner-Up
2016, Gloria Ferrer Glorious Bites finalist
2016 and 2017 National Mushroom Cook Off finalist, Kennett Square, PA
2016 It's A Perdue Night winner
2017 America's Better Sandwich Contest finalist
2017 BUBBA Burger Online Recipe Contest, second place
2017 Global Seafoods, second place
2018  Aunt Nellie's County Fair Competition prize winner
2018  Bo's July Summer Grillin' Contest winner
2018 Legendary Lentil Cook Off Grand Prize Winner, Pullman, WA