Cuban Espresso Dark Chocolate Cake with Salted Dulce de Leche Buttercream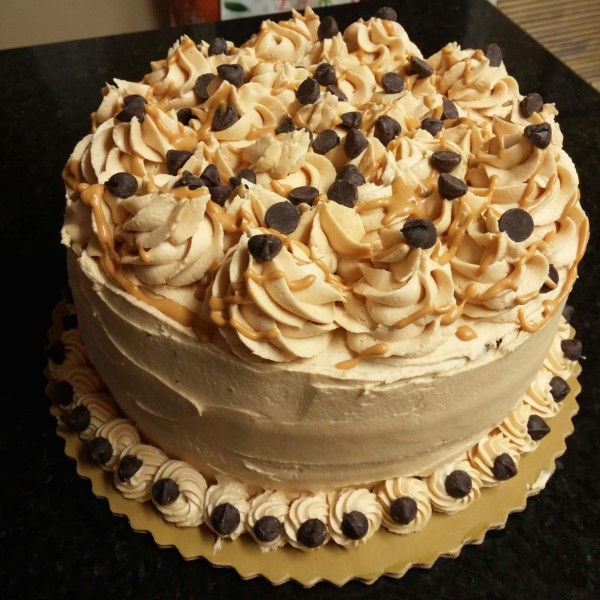 This recipe was originally written for my son's 4-H cake project. He was a top 10 and got to auction it off for big bucks! It combines my favorite combination of flavors–dark chocolate, coffee, and caramel.
Ingredients
3 cups sugar
3 cups all purpose flour
1-1/8 cup Hershey's Special Dark Cocoa
2-1/4 tsp baking soda
2-1/4 tsp baking powder
1-1/2 tsp salt
1 tsp espresso powder or instant coffee
3 large eggs
1-1/2 cups milk
3/4 cup vegetable oil
2 tsp vanilla extract
1-1/2 cup strong hot coffee
15 oz can Dulce de Leche
1 cup butter, softened
1/2 cup shortening
1 TBSP meringue powder
2 lbs powdered sugar
2-4 TBSP milk
2 tsp salt
1 tsp vanilla extract
Instructions
In a large mixing bowl, sift together sugar, flour, cocoa, baking powder, baking soda, salt, and espresso powder. In a smaller bowl, combine eggs, milk, oil, and vanilla. Add liquid ingredients to dry ingredients and blend on high for 2 minutes. Whisk or stir in hot coffee. Pour batter into 3 greased and floured 9" pans. Bake at 350 degrees for 30 minutes or until toothpick inserted comes out clean. Cool in pan for 10 minutes. Remove from pan and cool completely before filling & frosting.
In a mixing bowl, combine butter, shortening, 3/4 c. dulce de leche, salt, and vanilla extract. Beat on medium speed until smooth. Add meringue powder and half of powdered sugar. Mix on low until sugar is incorporated. Add remaining powdered sugar in 1/2 cup increments until completely blended. Add milk as needed to reach desired consistency. Turn mixer to high and allow butter cream to whip for 5 minutes.
With a serrated knife, level the cake be removing domed tops. Split each cake layer in half. Spread even amounts of buttercream between each layer. Frost entire cake. Garnish with chocolate chips. Heat remaining dulce de leche in the microwave for 20 seconds. Pour into a piping or zipper bag. Drizzle dulce de leche over cake.