Apple-Butternut Squash Bake with Panko, Rosemary, and Gruyere – Country Crock 2nd Place Winner
The 2nd place winner in our Country Crock contest comes from Nadine Mesch!
This versatile recipe could be a side dish for ham or maybe roast pork.  Serve up larger portions and you have a stellar vegetarian main dish option.  After having the pleasure of making and photographing this winner, I soon discovered it re-heats well and tastes great at lunchtime too!
Nadine's dish is the perfect example of balance.  The sweetness of the squash, Country Crock Cinnamon, and brown sugar are balanced with onion, ground black pepper and Gruyere cheese.  The tender fruit and vegetables are topped with the  satisfying crunch of Panko.  I kept telling myself, "just one more bite" yet somehow my fork kept sneaking back for more…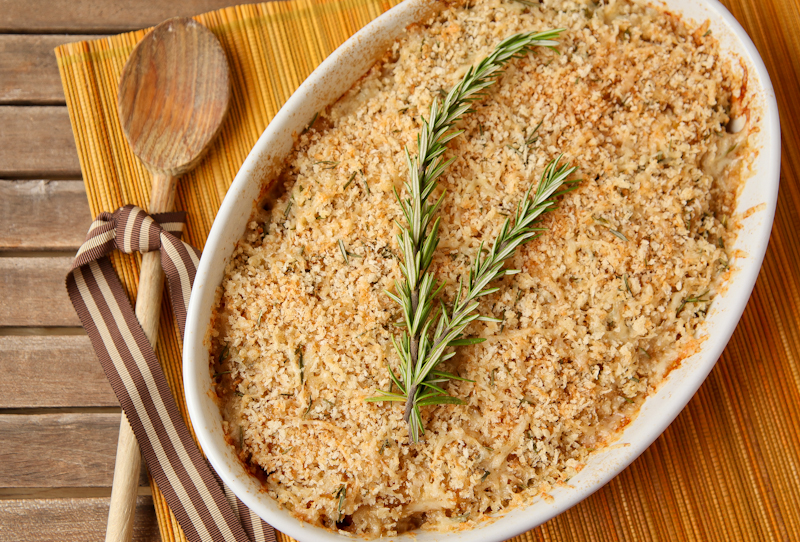 Nadine says,  "My 'Apple Butternut Squash Bake with Panko, Rosemary, and Gruyere' is one of those seasonal recipes.  As soon as Autumn is upon us and the leaves start to change colors, I start thinking comfort food.  My husband never liked butternut squash. and I was determined to show him how flavorful and versatile the squash could be. When I put this recipe together I wanted the squash to be the star of the recipe. I wanted something lower in fat and calories yet packed with flavor. I wanted to make this recipe healthy yet comforting. Country Crock though lower in fat and calories then butter, still gave this savory recipe a wonderful "comforting" flavor.  And, my husband loves it!"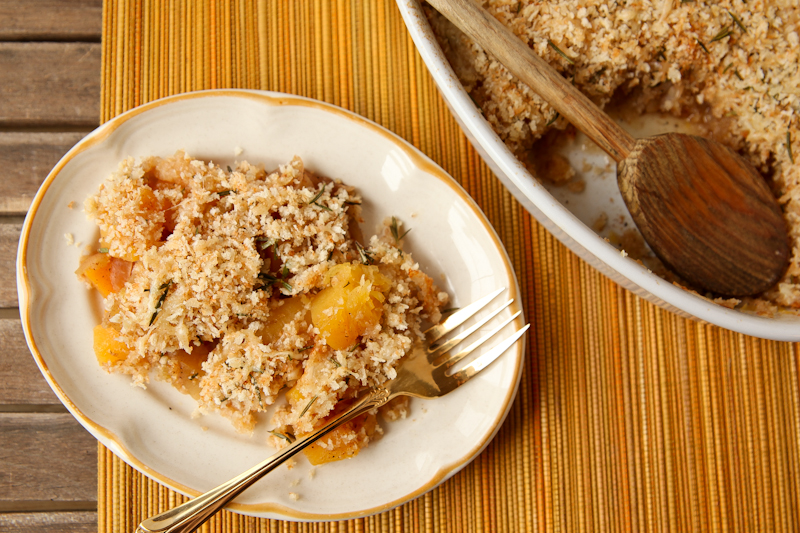 Apple-Butternut Squash Bake with Panko, Rosemary, and Gruyere
Ingredients
⅓ cup Country Crock Cinnamon Spread
2 cups onions, thinly sliced
2 apples, peeled and chopped
2½ lbs butternut squash, peeled, seeded, cut into ½ inch cubes (about 4 cups)
2 tsp brown sugar
1 tsp salt
½ tsp black pepper
½ cup apple cider
¼ cup chicken stock
1½ cups Panko bread crumbs
2 cups Gruyere cheese, grated
2 TBSP fresh rosemary, minced
Instructions
Preheat oven to 350 degrees. Grease a 2½ quart casserole dish with a little additional Country Crock spread.
In a large skillet, melt the cinnamon spread. Add onions and apple; saute until onions are lightly golden and tender, about 8 minutes. Add squash, brown sugar, salt and pepper; saute for another 10 minutes.
Place apple and squash mixture into prepared casserole. Top with cider and stock. Cover tightly with foil and bake for 40-45 minutes.
Meanwhile, in a baking pan in the oven, toast panko crumbs to a golden brown; allow to cool.
In a medium bowl, combine the toasted crumbs, Gruyere and rosemary. Uncover casserole, sprinkle with crumb mixture. Bake, uncovered, for 5-10 minutes, or until cheese has melted.