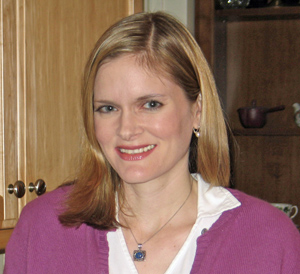 Camilla Saulsbury: I grew up in California and started cooking when I was very little; my first cookbook had all of the recipes set to familiar songs, cementing the idea in my little head that cooking is a lot of fun. I found CCC a few decades later in January 1999; I had recently had two recipes published in the readers' sections of magazines and, inspired by my $20 wins (a fortune in graduate school) searched the web for other contest listings. From there I started sending in recipes to a variety of small contests; the thrill of any little win, honorable mention, free potholder, or coupons was enough to keep me going. But it wasn't until I made it to the finals of the Build a Better Burger Contest that fall, where I met seasoned contesters Julie DeMatteo, Wolfgang Hanau, Patricia Schroedl and Francis Benthin, that I found out about the "world" of contesting. I was both terrified and excited about joining the ranks, but also hooked from then on out. Contesting has had such a profound influence on me that it actually led to my changing careers (from sociologist to food writer). I have met so many wonderful people through contesting, but I owe the greatest thanks to Betty and Ady for running this website and quite literally changing my life.
NOTABLE WINS:
• $100,000 National Chicken Cook-off (2005)
• $50,000 Build a Better Burger Contest (2006)
• $25,000 Ultimate Recipe Showdown—Cookies (2008)
• $20,000 "What Do You Do with Your Pace" Salsa Contest (2002)
• $10,000 Post Selects Brunch Contest (2001)
• Grand Prize, Better Homes & Gardens Annual Readers' Recipe Contest (2002)
• Grand Prize, Gilroy Garlic Festival (2000)
• Grand Prize, Vegetarian Times Soy Contest (2000)
• Grand Prize Steinfeld's Sauerkraut Contest (double win in desert & entrée categories) (2006)
• Finalist: Cooking Light Cook-Off 2005, Southern Living Cook-Off (2002 & 2004), Build a Better Burger (1999),
National Cornbread Cook-Off (2002), Food Network Seafood Cook-Off (2005), PBS Masterchef (2001)
FAVORITE WIN: The Gilroy Garlic Festival Cook-Off. It was my first cook-off win and, because it's a short drive from where I grew up, my entire family was in the audience to share it with me.
FUNNIEST WIN: A case of pickled beets. According to my husband "beets are never a prize."
BIGGEST CONTESTING THRILL: Meeting Roxanne Chan at the 2005 National Chicken Cookoff. Roxanne and I are from the same hometown (Albany, CA). My mother and I had been Roxanne devotees decades before I knew anything about contesting because her recipes were routinely featured in my mother's two favorite magazines, Better Homes & Gardens and Sunset (she still has about twenty of Roxanne's clipped recipes in her recipe box). As it turns out, Roxanne is even more wonderful than her brilliant recipes.
ADVICE: If you're new to contesting, enter the small contests first; the odds are in your favor and getting any kind of acknowledgement will spur you on. Don't be afraid to re-use favorite flavors or flavor combinations if they have worked for you in other wins (and/or if you simply think they are great). For example, if your innovative spin on Indian food worked in a rice contest, try the same flavor profile in a chicken, burger, or (hey, why not?) a cookie contest (chocolate chip cookies with curry anybody?).
FORUM NAME: Camilla