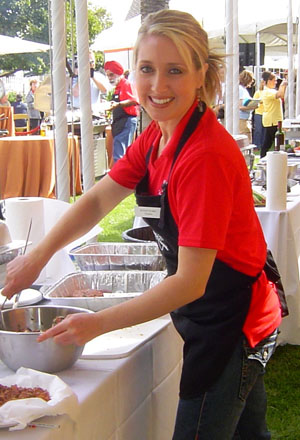 Jenny Flake- I was born and raised in AZ. I've been married for 10 years and have 2 cute little boys. I didn't get started cooking until about 7 years ago when we moved into our first new home. I had no idea what I was doing so I watched A LOT of Food Network and started reading and collecting cookbooks. Come to find out, I really enjoyed it. Late 2003 I came across a Pillsbury Bake-off that was shown on Food Network. After watching the show, I was completely motivated to try to make it as a finalist in the next bake-off. I spent hours researching past bake-offs online and got to working on my creations. I could hardly believe I was chosen as a Finalist in 2004. It was an experience I'll never forget and have been contesting ever since. I am so glad I fell into this fun hobby, I have met so many great new friends and find it challenging and exciting!
NOTABLE WINS:
• Finalist in Pillsbury Bake-off 2004, 2006.
• Finalist Build a Better Burger 2004, 2nd Place Winner in 2006.
• Grand Prize win for Bays "Pizza Pronto" contest 2004. Won $500 Gift Card to William Sonoma
• Grand Prize Win for Mama Mary's Pizza Contest 2004. Won Disney World Trip and $5000
• Finalist in National Cornbread Cook-off, 2005.
• GP Finalist in Tillamook AZ Regional Mac and Cheese and 2nd Place Winner @ National Cookoff 2006.
• Grand Prize Win for Stir the Pot with Harry Soup Contest 2006.
• Grand Prize Win for Elsie's Borden Cheese Contest, 2006. $5000 kitchen make-over and Chef Dinner
• 2nd Place Win for Cooks Like A Californian Chicken Contest, 2006. Won $1500
• Grand Prize Win for Light and Tasty Bountiful Brunch Contest April/May 2007. Won $600
• Finalist in National Chicken Cook-off, 2007.
• Grand Prize Winner for Martha White Cornbread Cookoff for April 28th, 2007. Recipe: Chicken Taco
Cornbread Wedges with Ranchero Cilantro Drizzle. $5000 and a 5 Star stainless steel gas range
• Finalist for the Food Network's Ultimate Recipe Showdown Comfort Food August 2007
• Finalist and Category Winner for Southern Living cook-off 2007 $10,000
BEST SURPRISE WIN: During my first year of contesting, I created a pizza recipe for the Mama Mary's Pizza Contest and sent it in on a whim without trying it out. First, I won as a Semi-finalist and then later found out I won the Grand Prize for a trip to Disney World and $5000. My family thought I was joking.
ADVICE: Don't let your losses get you down. Turn right back around and focus on another contest. Aside from large cook-offs, don't be afraid to enter recipes that you haven't practiced in the kitchen. Some of my best wins have come from recipes that were just cooked up in my mind! Also, find a system that will keep your contesting organized. Whether it be on the computer or on paper, keep it organized!
FORUM NAME: Jenny Flake