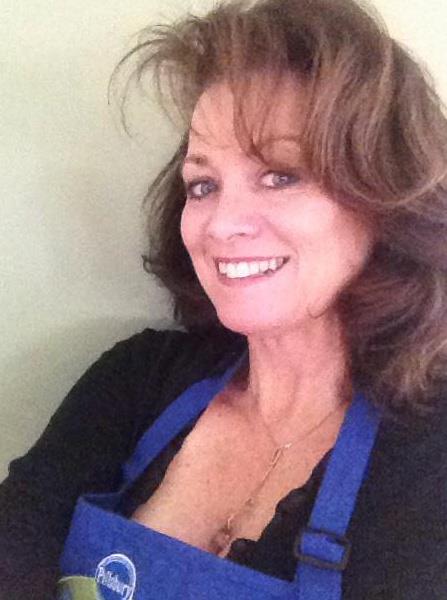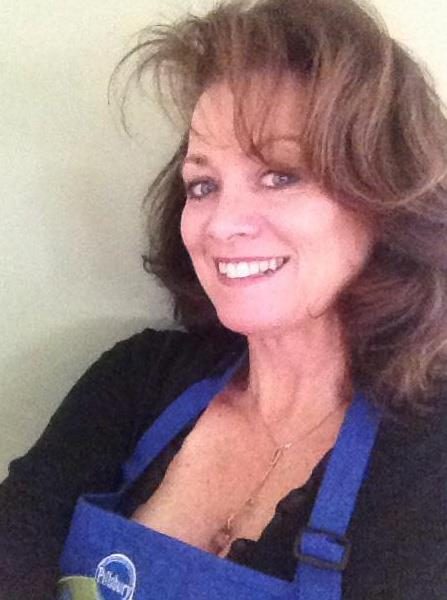 Tell us a little bit about yourself!
I grew up in New York and graduated from Fordham University. I worked in marketing research for Ski Magazine and Golf Magazine before following my husband to Mississippi where he was stationed in the Air Force. We now live in Connecticut where we have raised three children (now young adults) and I became the recurrent volunteer…Newcomers' Club, PTO, Church, etc. For fun, I have been part of a book club with the same ladies for 20 years and I enjoy playing tennis, taking pictures for Instagram (@veronicacallag) and watching old movies on Netflix.
How did you become interested in cooking?
My mom was a wonderful cook and prolific cookbook collector. From a very young age she would let me help in the kitchen and when I was about 10 or 11 she gave me my first cookbook: Easy Microwave Cooking. Together we made many of the recipes, my favorite being the Macaroni and Cheese. Soon after, I began my own cookbook collection and experimenting beyond the microwave.
What is your cooking philosophy?
I enjoy cooking with simple ingredients…meat and potatoes…the basics, nothing too fancy. Perhaps it's the New Yorker in me, but, I love experimenting with pizzas – what doesn't go on a pizza? I especially enjoy cooking in the summer when all the farm stands in our town are filled with fresh ingredients.
How did you get started in cooking contests?
I started entering cooking contests in 2004. My first "win" was a cookbook from Quaker Oats and I thought "Wow, this is cool, I can win free stuff". So I searched for contests online and stumbled upon CCC where I found this fabulous community of friendly competitors. That year I entered Sutter Home Build a Better Burger and was lucky enough to be selected as a finalist, flown to Napa to compete and film for Food Network…as you might imagine, I was now hooked. My all-time favorite competition was the National Beef Cook Off-I was lucky enough to attend 3 times. I loved having the opportunity to meet the cattlewomen and men – the folks who proudly raise our beef. My favorite beef cook-off was held in Chicago where Guy Fieri was the host and The Food Network filmed. Shortly after, in July, myself and a few other National Beef competitors found ourselves in competition again at The Gilroy Garlic Festival also hosted that year by Guy Fieri who quipped "What, are you ladies on some kind of a circuit or something?"…. If he only knew.
What has been your favorite part about competing? Any Advice?
I feel so privileged to have made many wonderful friends through CCC and food competitions. I remember my first cook off and feeling so intimidated, but when I met the other competitors there who were CCC members, even though I did not know them, it was like having a friend with me. The generous spirit of friendship within this community has been as great as any Grand Prize. As far as advice, I would say invest in the book: The Recipe Writer's Handbook by Barbara Gibbs Ostmann, I found it to be worth every penny when I was first learning to write recipes. And don't avoid the small contests, $100 here and there and free products can add up!
Some Notable Wins:
2004       Finalist Sutter Home Build a Better Burger-
2005       Finalist and category winner National Beef Cook off South Dakota
                 Grand Prize Whirlpool Cake-off
2006       Grand Prize Sweet Rewards Sweet Potato-
                Finalist Eat with Beer cook-off-NYC
                Grand Prize World Harbors contest
                Finalist Mix it Up with Betty
                Finalist Mama Mary's Pizza contest
2007       Grand Prize Bay's English Muffins
                Finalist and category winner National Beef Cook off Chicago
                Finalist Cornbread Cook off Tennessee
                Finalist Gilroy Garlic Festival Gilroy
2008       Grand Prize Cooks Country Turkey Leftovers
                Grand Prize Simple and Delicious
2009       Finalist National Beef Cook-Off Sonoma
                First Place Crisco contest
                First Place Kretchmars contest
2010       Finalist Beringers Steak Cook off Rhode Island
                First Place Chicken of the Sea
2011       Finalist Hood New England Diary Cook off Maine
                Grand Prize Diala Cheese contest
2012       First Place Crave Bros. Cheese
                Finalist Cavit Gourmet Pizza Classic NYC
                Finalist Gilroy Garlic Festival
                First Place Kozy Shack Pudding contest
2013       Grand Prize Nature's Favorite Recipe contest
                Finalist Pillsbury Bake-off Las Vegas
                Grand Prize Greek Gods Yogurt
                Grand Prize Grilled Cheese Academy
2014       Grand Prize California Olive Oil Salad Contest
                Finalist Macy's Grilling Guru cook off Nashville
                Top 10 finalist World Food Championships (8th place recipe category)
2015       Finalist Gloria Ferrer Perfect Bite cook off NYC
                Finalist Sebastiani Pizza My Way
                Top 10 finalist World Food Championships (2nd place recipe category)
                3rd place WFC Kansas City High Steaks challenge
2016       Grand Prize Trump Resorts Citrus Twist Contest
                Grand Prize Mark West Wines Marinade Contest
                First Place PB My way contest
                Top 10 finalist World Food Championships (2nd place steak category)