The Grand Prize winner in the 1991 Build a Better Burger contest gave the All-American burger a bit of international flair.  Instead of a classic beef patty between two buns, this winning innovation incorporates ground lamb and uses a pita pocket.  The result is "Lamburgers ala Grecque with Cilantro-Mint Chutney."
I have to admit, I found myself sneaking extra spoonfuls of the outstanding herb-yogurt sauce.   It was so full of flavor, I wanted to make sure there was a nice dollop on every single bite!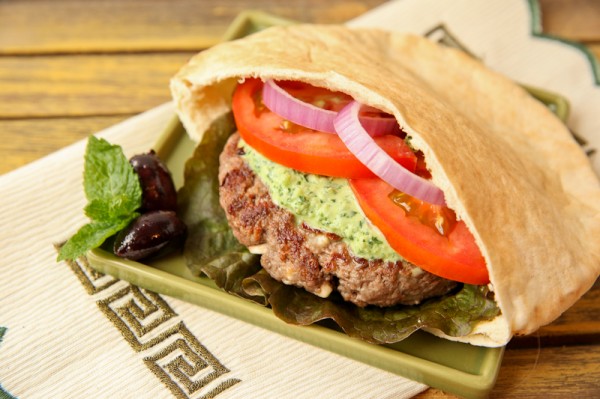 Robert Chirico created these winning Greek Lamb Burgers.  He said, "I like to mix lamb with beef for flavor, and generally add what I would call a moistening agent; my recipe used feta cheese and Kalamata olives to this end. I served it with a cilantro-mint chutney on a special, thick pita made by Father Sam's Bakery of Buffalo, New York, that I brought with me to Napa Valley."
That's a good point to remember when you are creating your entries in Build a Better Burger.  If there is a particular ingredient or specific brand that you simply must include in your recipe, the folks at Sutter Home allow you to bring it with you to the cook-off in Napa.  In the case of this 1991 winner, maybe those special pitas made all the difference!
Follow this link for more history from the 1991 contest:  http://www.buildabetterburger.com/burgers/history#1991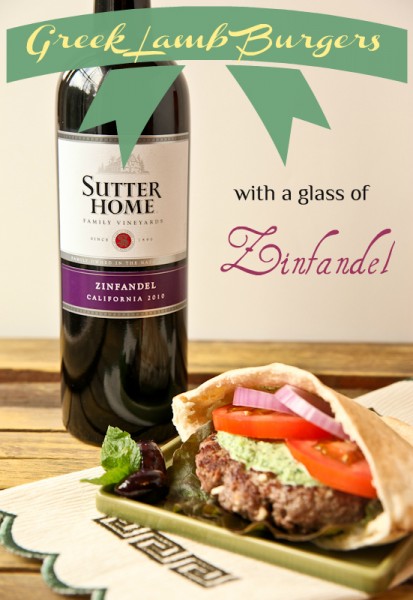 There wasn't any wine incorporated into this winning burger, so I looked through the Sutter Home collection for an appropriate pairing.  I wanted something robust and full bodied to work with the rich lamb flavor.  I chose the Zinfandel, but a Merlot would also compliment the dish nicely.

Lamburgers àla Grecque with Cilantro-Mint Chutney
Ingredients
Cilantro-Mint Chutney:
⅓ cup plain yogurt
2 tablespoons chopped onion
1½ fresh jalapeño chiles, seeded and chopped
1½ tablespoons chopped fresh ginger
⅓ cup fresh mint leaves
¾ cup cilantro leaves
1 large garlic clove, chopped
½ teaspoon kosher salt
Pinch of sugar
Patties:
1 pound lean ground lamb
1 pound ground sirloin
1 garlic clove, minced
½ cup crumbled feta cheese
⅓ cup Kalamata olives, minced
1 teaspoon kosher salt
¼ cup extra-virgin olive oil
1 teaspoon ground cumin mixed with 1 teaspoon ground coriander
Olive oil, for brushing on the grill rack
6 thick pita breads
6 tomato slices
6 thin red onion slices
6 red leaf lettuce leaves
Instructions
To make the chutney, combine all of the ingredients in a blender or food processor and blend thoroughly. Cover and refrigerate until serving.
Prepare a medium-hot fire in a charcoal grill with a cover, or preheat a gas grill to medium-high.
To make the patties, combine the lamb, sirloin, garlic, cheese, olives, and salt in a large bowl. Handling the meat as little as possible to avoid compacting it, mix well. Divide the mixture into 6 equal portions and form the portions into patties to fit the pita breads. Brush the patties with the ¼ cup olive oil, then sprinkle with the spice mixture.
When the grill is ready, brush the grill rack with olive oil. Place the patties on the rack, cover, and cook, turning once, until done to preference, about 4 minutes on each side for medium-rare. During the last few minutes of grilling, place the pita breads on the outer edges of the rack and toast lightly.
To assemble the burgers, slice off and discard about one-fourth of each pita bread and carefully spread the bread apart to form a pocket. Stuff a patty into each pocket and spoon an equal portion of the chutney over each patty. Add a tomato slice, an onion slice, and a lettuce leaf in each pocket and serve.

Note:  There was no Build a Better Burger competition in 1992, as Sutter Home's marketing department decided to refresh its summer promotion by staging a "Great Grilling Giveaway" sweepstakes instead of the recipe contest.  Stay tuned next Friday for the winner in the 1993 contest!

Be sure to check out the 1990 Winner – "Napa Valley Basil-Smoked Burgers"