Apple Blossoms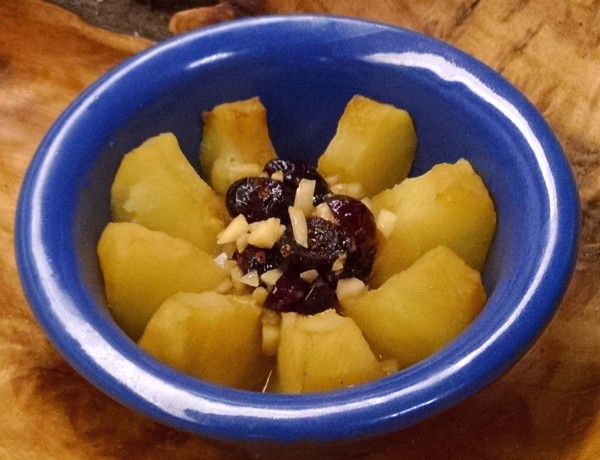 This snack is super easy and healthy. It smells great while cooking and is pretty when finished. It's perfect for adult gatherings or fun for kid's treats. And, the best part, it's only about 5 grams of fat and full of healthy fiber & vitamins.
Ingredients
1 Granny Smith Apple
1 tsp. coconut sugar
1 tsp. dried sweetened cranberries
1 tsp. slivered almonds, chopped
1 tsp. (small pat) unsalted butter
Instructions
Peel the apple. Core and slice the apple into partial wedges, to about ¾ to 1 inch from the bottom.
Here is an easy way to assure you are not cutting the apple to close to the bottom: Set the apple upright. Place two wooden spoons or thick-handled utensils on each side of the apple. Use an apple corer/ wedger to slice the apple into wedges, coming down to meet the spoons. If just using a knife to cut the wedges, do the same thing, stopping at the utensils on the counter. This will keep you from cutting all the way through the apple. Carefully remove the bottom of the core. (The apple is still whole looking at this point. It blossoms out as it cooks.)
Place in a microwave safe dish just a little wider than the apple. Sprinkle a little of the coconut sugar in the core cavity. Stuff the cavity half way with cranberries and then the chopped almonds. Sprinkle with the rest of the coconut sugar. Place the pat of butter on top. Cover with plastic wrap or lid. Microwave on hi setting for 2 ½ to 3 minutes, depending on size of apple.