Apricot Bourbon Bacon Jam Blossoms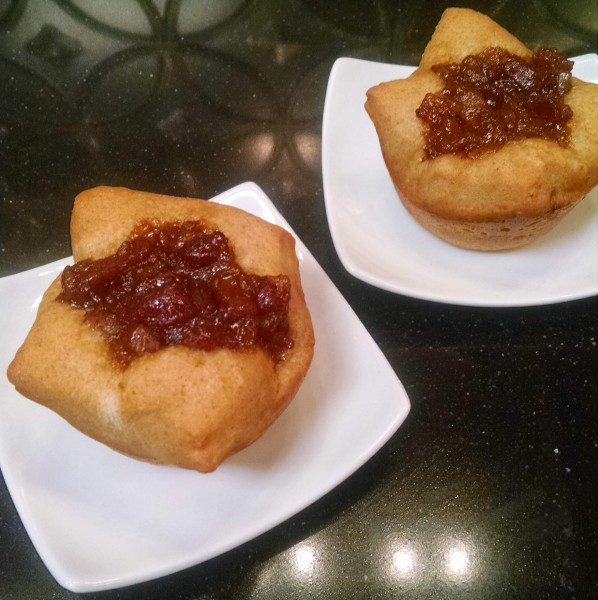 This kicked up jam was just the right filling to make the whole wheat rolls come to life. The flavors come from every direction; sweet, salty, spicy, tangy, and smoky, and then mingle together to create a burst of satisfaction. The jam can be made ahead and rewarmed when you are ready to enjoy it.
Ingredients
16 oz. prepared or frozen whole wheat bread dough, thawed and set at room temperature (ready to shape)
1 pound thick smoked bacon, cut into small pieces
1 large onion, finely diced
6 cloves garlic, finely diced
1/3 cup cider vinegar
1/2 cup Bonne Maman Apricot Preserves
1 cup strong coffee (brewed)
1/3 cup maple syrup
1/3 cup bourbon
1/2 teaspoon cumin
1 chipotle chilies in adobo, finely chopped
1 Tablespoon cornstarch
3 Tablespoon water
Instructions
In a large saucepan over medium heat, add bacon pieces and about ¼ cup water to cover the bottom of the pan. Cook the bacon stirring often until the bacon is cooked through and water evaporates. You may have to add a little more water before the bacon is cooked all the way through. This ensures an even cooking and allows even crisping of the bacon pieces. After the water evaporates and bacon is cooked through, continue cooking until the bacon is crispy. Remove bacon pieces and set aside, reserving 1 tablespoon of the grease in the pan. Add the onions and sauté until tender. Add the garlic and sauté until fragrant, about one minute. Add the vinegar and scrape the bits from the bottom of the pan. Add the coffee, Bonne Maman Apricot Preserves, maple syrup, bourbon, cumin, chipotle chilies, and the cooked bacon. Reduce the heat and simmer until reduced to a slight syrupy consistency. Make a slurry from the cornstarch and water. Stir quickly into jam to thicken.
Preheat oven to 350 degrees. Spray muffin cups with cooking spray. Roll bread dough into about 3/8" thickness. Cut into squares about 5" x 5". Push squares into muffins cups. Spoon about 2 T. of Apricot Bourbon Bacon Jam into the center of the cups. Cover loosely with plastic wrap. Set aside to rise about 30 minutes until dough is puffy. Remove plastic wrap and bake for 22-25 minutes until bread is nicely browned.
Notes
Note: prep and cook time do not include bread rise time.