Bacon Sticky Buns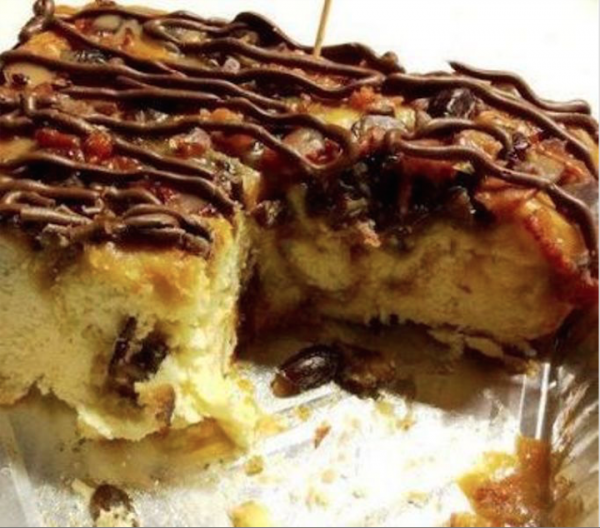 Nice sticky buns with a hearty twist.
Ingredients
4 t milk
1 T, 1 1/4 t sugar
1 t dry active yeast
1 egg
1 cup plus 3 T flour
1/4 t salt
2 T butter
1/2 c chopped chestnuts
2 T butter
3 T brown sugar
3 T heavy cream
1 T honey
pinch of salt
1 T corn syrup
1/4 cup crispy bacon
1/4 c Melted chocolate wafers
1/2 c bacon
1/4 c chestnuts
4 T brown sugar
4 T butter
3/4 t cinnamon
Instructions
Buns: Heat milk in a small saucepan over medium heat. Transfer milk to a bowl; stir in sugar. Sprinkle yeast over milk and whisk to blend. Let sit until yeast is foamy, about 5 minutes. Add egg; whisk until smooth. Combine remaining sugar, flour, and salt in the bowl of a stand mixer fitted with a dough hook. Add milk mixture. With mixer running, add room-temperature butter, a bit at a time, blending well between additions. Mix on medium speed for 1 minute. Knead on medium-high speed until dough is soft and silky, about 5 minutes.
Brush a medium bowl with some melted butter; place dough in bowl. Brush top of dough with remaining melted butter; cover with plastic wrap. Let dough rise in a warm, draft-free area until doubled in size, 1–1 1/2 hours. Chill dough for 2 hours.
Lightly dust top with flour. Roll out dough to a rectangle. Evenly spread the cinnamon sugar mixture on top and sprinkle with 1/2 chestnuts and 1/2 bacon. Reserve remaining pecans and bacon for tops. Roll tightly and slice.. Loosely cover pan with plastic wrap. Let buns rise in a warm, draft-free area until doubled in size, 45 minutes to 1 hour.
Put all but 1/4 topping in pan, than add buns. Preheat to 350°. Bake, rotating pan halfway through until buns are golden brown, filling is bubbling, about 20 minutes. Let cool for 5 minutes. Spoon remaining glaze over, melt chocolate and drizzle over top. Let cool in pan on a wire rack. Enjoy buns warm or at room temperature.
Topping: Melt butter in small saucepan over medium heat. Stir in brown sugar,corn syrup, cream, honey, and salt. Bring to a boil, add chestnuts and bacon.