Brie Mac and Cheese with Arugula Walnut Fig Pesto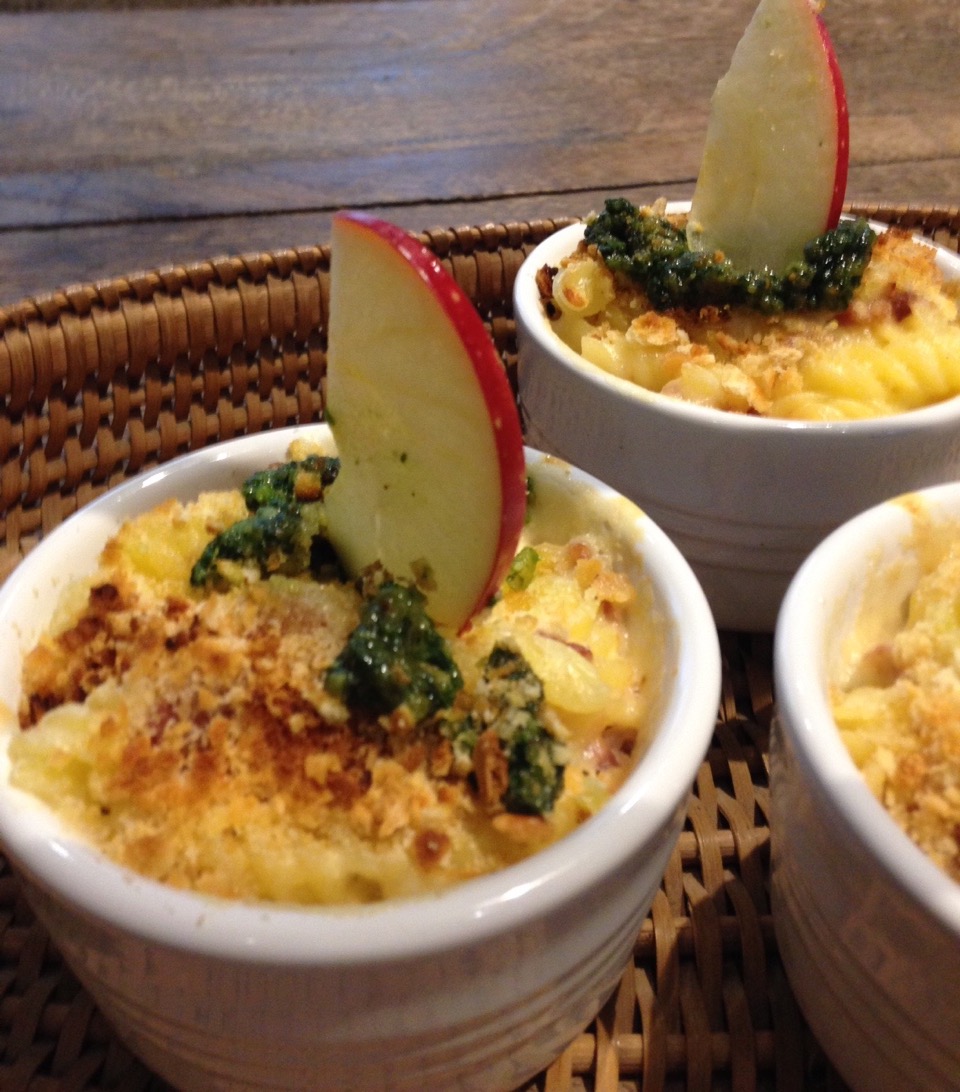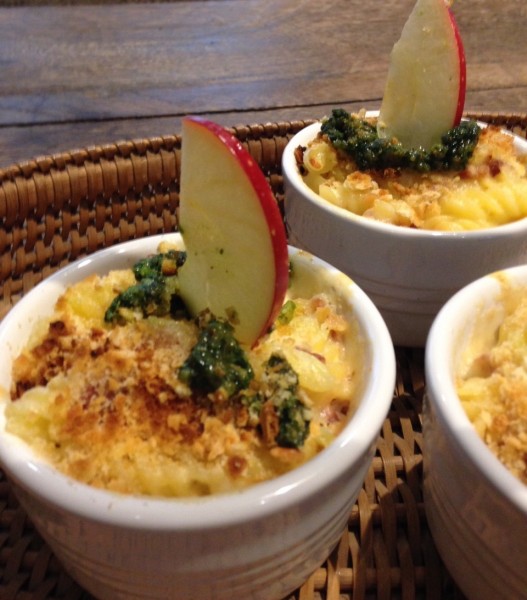 Inspired by my craving for a grilled Brie, prosciutto and arugula sandwich, this creamy brie pasta dish with salty Italian ham and crunchy crust is comfort food with a little added twist…a peppery yet sweet pesto and crunchy apple bite that elevates this mac and cheese to your new go to recipe for a warm weather luncheon or dinner.
Ingredients
8-ounces rotini pasta, prepared "al dente", drained (reserve 1 cup of the pasta cooking water), set aside
Cheese Sauce and Cracker Topping
2 Tablespoons unsalted butter
1/4 cup minced onion
1 Tablespoon flour
1-1/2 cups half and half, warmed on stovetop or in microwave
6 ounces Brie cheese, rind removed and chopped into small pieces
1/2 cup freshly grated Pecorino cheese
4 ounces Prosciutto di Parma, diced
1/2 teaspoon kosher salt
1/4 teaspoon freshly ground black pepper
10 Ritz crackers, crushed
1/2 cup extra virgin olive oil
2 garlic cloves,peeled and smashed
2 cups firmly packed arugula, washed and stems removed
1/4 cup finely chopped walnuts, lightly toasted
1/4 cup freshly grated Parmesan cheese
1-1/2 tablespoons fig spread or fig preserves
1/4 teaspoon Kosher salt
1/8 teaspoon freshly groung pepper
1 small red apple, washed, cored and cut into quarters
Instructions
For pesto and garnish: Heat olive oil in small skillet over low heat. Add garlic and cook for 30 seconds or until fragrant. Remove garlic (reserve) and set pan of oil aside to cool. Using food processor or blender, add cooked garlic, arugula, walnuts, cheese and fig spread. Pulse until coarsely chopped. Add oil and process until fully incorporated and smooth. Adjust seasoning to taste with salt and pepper and scrape mixture into small bowl. Makes about 1 cup.
To Prepare: Set oven to 350 degrees. Melt butter in medium saucepan over medium-low heat. Add onion and cook until translucent, about 5 minutes. Sprinkle flour over onions and cook stirring for 1 minute. Add warmed half and half and cook, stirring, until sauce begins to thicken. Add cheeses and prosciutto and stir until incorporated. Remove from heat. If sauce is too thick add some of the reserved pasta water. Taste sauce and adjust seasoning with salt and pepper. Add pasta and stir until coated with sauce. Spoon mac and cheese mixture in equal amounts into four (6-8 oz. each) buttered ramekins. Cover top of each ramekin with a layer of crushed cracker crumbs. Place ramekins on a cookie sheet and bake 20-30 minutes, until bubbly around edges. If you prefer more color to crust place under broiler for 1 minute, watch carefully not to over brown. Remove from oven and place ramekins on a platter or individual plates. Top each ramekin with about 2 teaspoons pesto (or more if desired). Push a wedge of apple through the top crust to garnish. Serve immediately.
Notes
There will be extra apple slices and pesto. Spread leftover pesto onto an apple slice for a snack.