Broccoli Slaw Pad Thai Nachos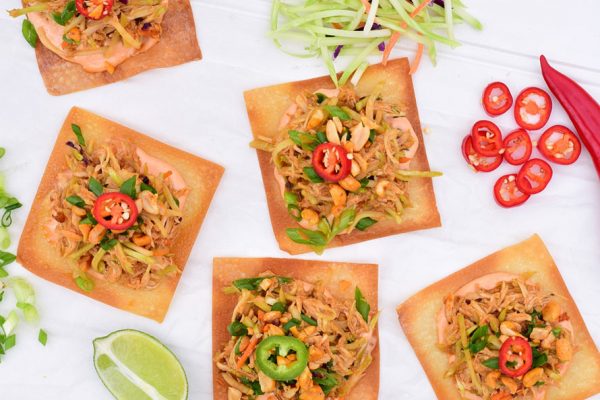 Mann's Broccoli slaw is seasoned up with Pad Thai Sauce, mixed with tender chicken, and served over crispy won ton "nacho" chips for a fun fusion dish that's healthy and vibrant.
Ingredients
1 twelve ounce bag Mann's Broccoli Slaw
24 won ton wrappers
1/4 Cup, plus 1 Tablespoon olive oil, divided
2 teaspoons minced garlic
2 Cups cooked chicken, shredded
2 Tablespoons soy sauce
1 1/2 Cups jarred pad Thai sauce
4 scallions, sliced
1/2 Cup peanuts, chopped
1/2 Cup mayonnaise
1 Tablespoon hot chili sauce
1 lime
2 hot peppers (such as jalapeño and/or Fresno), sliced
Instructions
Preheat oven to 400 degrees. Brush the won tons on both sides with olive oil and lay them flat on a sheet pan. Bake for six to eight minutes until golden and crisp. Remove and set aside.
In a large skillet, add the remaining Tablespoon of olive oil. Add the Mann's Broccoli Slaw and the garlic. Sauté for two minutes. Add the chicken, soy sauce, and pad Thai sauce. Sauté for 3 to 4 more minutes, just until the mixture is heated through.
Add the scallions and peanuts to the skillet and stir to combine.
Mix the mayonnaise, hot chili sauce and lime juice. Spread about a teaspoon of the mayonnaise onto each won ton.
Place a generous amount of the pad Thai mixture onto each won ton and top with hot pepper slices before serving.