Broccoli Slaw and Shrimp Noodle Salad with Wasabi Miso Dressing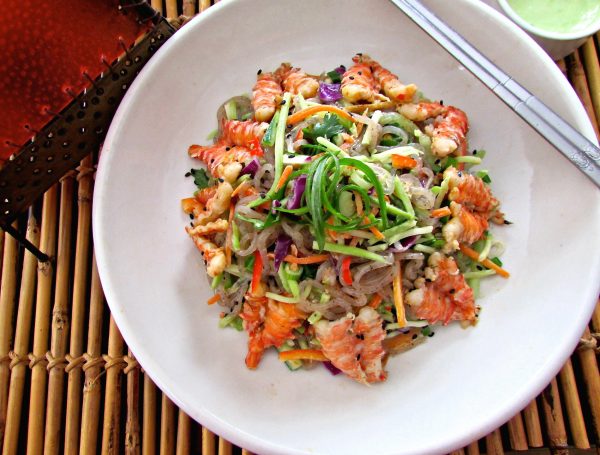 This tasty Japanese-inspired salad has tender sweet shrimp, tons of fresh vegetables, shirataki noodles and an incredible wasabi miso dressing.  It's always wonderful when you don't have to sacrifice flavor and taste for something that's so good for the body and soul.  Fresh, keto friendly and low carb never tasted so good!
Ingredients
14 ounces shirataki noodles, black
1 pound steamed shrimp
1 package Mann's Broccoli Cole Slaw
3 mini red bell peppers, julienned
1 small seedless cucumber, julienned
2 green onion stalks, chopped
1 teaspoon ginger oil, for cooking
1 tablespoon wasabi paste, or to taste
1 tablespoon miso
1 garlic clove, grated
1 tablespoon rice vinegar
1/2 mayonnaise
1 teaspoon stevia, sugar substitute
Instructions
Rinse, drain and cook shirataki noodles according to package. Set aside to cool.
Steam shrimp for 3 minutes, set aside to cool.
In a small small mixing bowl, combine dressing ingredients.
In a large mixing add broccoli slaw, bell pepper, cucumber, green onion and shirataki noodles
Pour some of the dressing over salad mix and toss. Add more dressing to your taste. Serve remaining dressing on the side.
Evenly place salad on 6 plates. Top with shrimp and garnish with green onion curls.
Notes
If allergic to shellfish, substitute shrimp for steamed fish or chicken breast