Bulgogi Soft Tacos with Tangy Broccoli Cole Slaw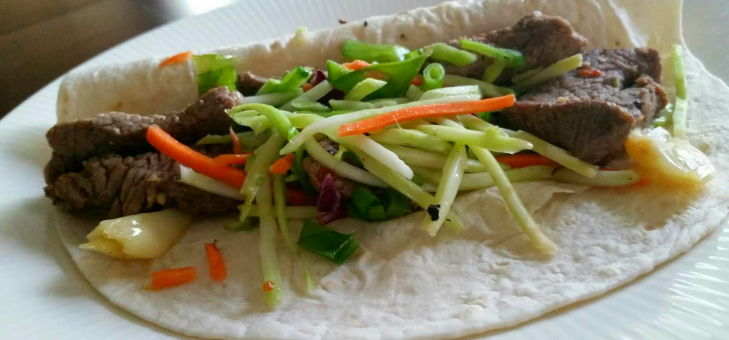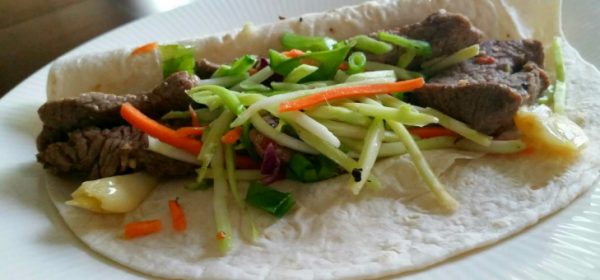 Bulgogi is thinly sliced beef seasoned and cooked-as simple as that. There are many variations, but mine is simple-few seasonings because the true taste of the steak needs to come through, along with the sauted garlic cloves. The topping is tangy and fresh, made with Mann's Broccoli Cole Slaw, green onion and a simple dressing of lime and oil. Simple is good.
Ingredients
12-ounce package Mann's Broccoli Cole Slaw
3 green onions, sliced
½ lime, juiced
4 Tablespoons olive oil, divided
½ teaspoon kosher salt
1 teaspoon freshly ground black pepper, divided
2 pounds sirloin steak, thinly sliced
2 Tablespoon dry steak seasoning, any type
8 whole garlic cloves, peeled
8 small flour tortillas
Instructions
In a large bowl, mix cole slaw, green onions, lime juice, 2 Tablespoons olive oil, kosher salt and ½ teaspoon black pepper. Toss and cover. Chill while cooking steak.
Season steak slices with steak seasoning and ½ teaspoon of the remaining black pepper. Heat a large nonstick skillet on medium high and add the remaining 2 Tablespoons olive oil. Add steak and garlic cloves and cook about 5-6 minutes, stirring, until beef is medium rare and garlic is soft.
To assemble tacos, fill each flour tortilla with beef and garlic, then top with a heaping spoonful of slaw.