Chipotle-Raspberry Mini Shrimp Tacos with Mustard Crema
Posted in:
Appetizers
,
Holidays
Tagged:
crema
,
horseradish
,
Maille Mustard
,
HolidayRecipeContest
,
Mustard
,
chipotle
,
almond
,
raspberry
,
Holiday
,
Mexican
,
Pineapple
,
corn tortilla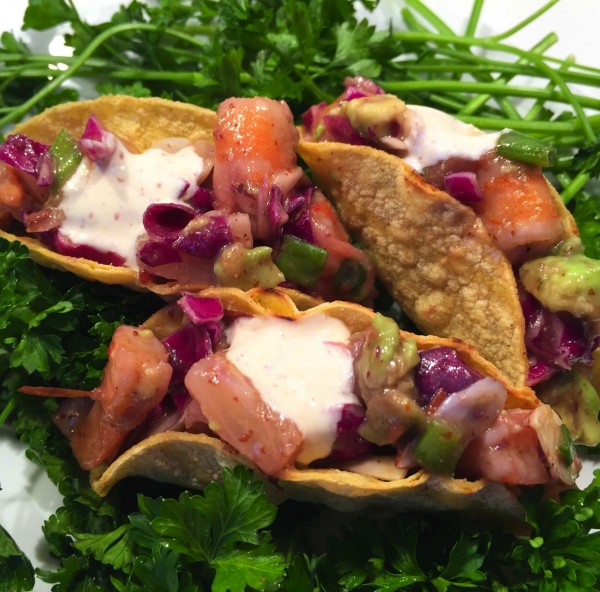 Spicy & colorful mini shrimp tacos make great holiday appetizers that pair perfectly with sparkling wine!
Ingredients
1/4 cup store bought chipotle-raspberry marinade & dip
3 Tablespoons Maille Horseradish Mustard, divided use
1/2 pound ready to eat shrimp, (41/50 count)
8 ounces pineapple tidbits in natural juice, drained, reserve juice
1 cup chopped red cabbage
1 avocado, peeled, seeded and diced
1/4 cup chopped scallions, green & white parts
1/4 cup sliced almonds
1/4 cup Mexican crema
12 small, extra thin, corn tortillas
Instructions
Mix the chipotle-raspberry marinade & dip with 2 Tablespoons Maille Horseradish Mustard and put into a small bowl.
Cut the shrimp into 3 pieces each and add to the bowl along with the pineapple, cabbage, avocado, scallions, almonds and 1/4 teaspoon black pepper. Gently mix, cover and chill for a minimum of 1 hour.
In a small bowl, mix the Mexican crema with 1 Tablespoon Maille Horseradish Mustard and 1 tablespoon reserved pineapple juice. Cover and chill until needed.
Use a 4" diameter cookie cutter and cut out 12 tortillas. Heat a skillet on medium and cook the tortillas a few minutes, or until just starting to brown on each side. Remove them, set into tortilla holders to shape and let sit until cooled. Repeat for remaining tortillas.
To serve, divide the shrimp mixture equally into the shells, spoon on some mustard crema and serve.
Notes
These spicy & colorful appetizers can be made ahead early in the day. They're served cold and go great with sparkling wine!
I cut down corn tortillas for this recipe, but if you can find mini tortilla shells instead, these will be all the easier to make!
Double the recipe for a larger crowd, and plan on 3 tacos per person.