Cider and Cinnamon Apple Salad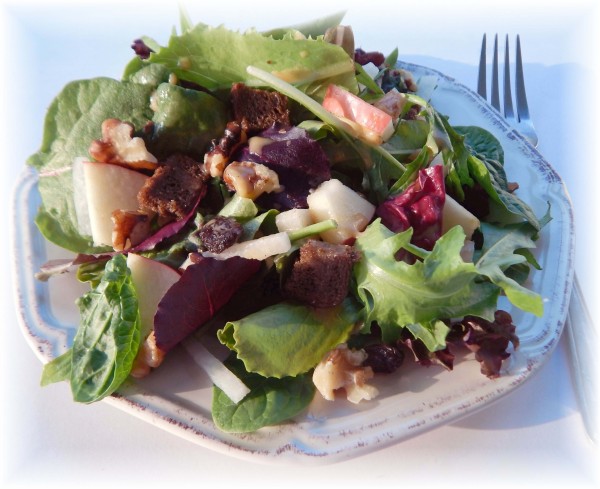 The apple cider and cinnamon vinaigrette is the real star of this salad. A little sweet, a little tangy, and a little homey, it complements the apples, walnuts, raisins, and Brie perfectly. Homemade pumpernickel croutons bring a bit of a salty crunch to the mix.
Ingredients
5 oz. package spring mix lettuce
1 Pink Lady Apple
1/2 cup thinly sliced jicama
1/3 cup raisins
3/4 cup chopped walnuts, toasted
4 oz. Brie, cut into 1/4" chunks
15 slices 2 1/2" x 2 1/2" Party Pumpernickel Bread
1 Tablespoon olive oil
1/4 teaspoon sea salt
4 tablespoons apple cider vinegar
6 tablespoons good quality olive oil
2 tablespoons honey
1 teaspoon ground cinnamon
1/4 teaspoon sea salt
Instructions
Cut the Pumpernickel bread into 9 cubes per slice. Toss the cubes with 1 tablespoon of olive oil and 1/4 teaspoon sea salt. Spread the bread onto a baking sheet and bake in a 350 degree oven for 7-9 minutes, turning the bread over halfway through cooking. Set aside.
Create the vinaigrette by combining all of the dressing ingredients. Blend or mix until emulsified. Set aside.
Prepare the fresh vegetables. Scatter the spring mix into a large, oblong platter. Using an apple cutter/corer, cut the apple into eight sections. Thinly slice each apple section and scatter on top of the spring mix. Peel the fibrous skin from the jicama. Cut into 1/4" thick rounds and thinly slice into strips. Add to the salad. Scatter the raisins, toasted walnuts, cubed Brie, and Pumpernickel croutons on top of the salad. Serve the dressing on the side.