Colorful Quinoa & Persimmon Salad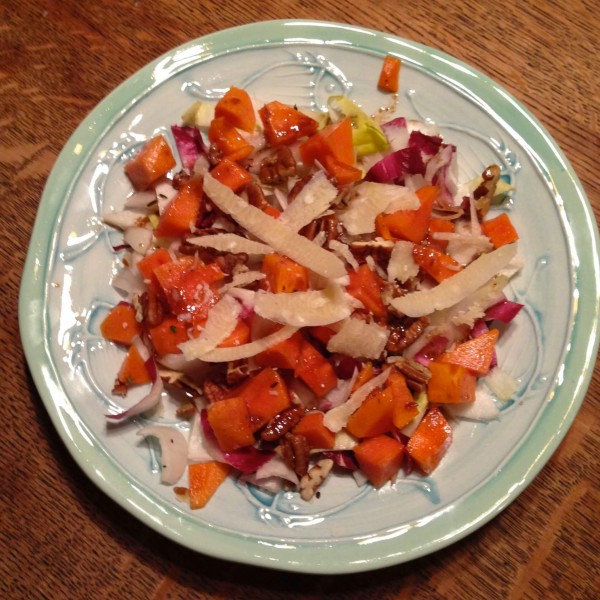 With its crunch and bold flavors, this colorful persimmon salad makes a welcome break from all the rich holiday treats.
Ingredients
1/2 cup red quinoa, rinsed
Browned Mustard and Honey Dressing
3 Tablespoons Maille Originale Dijon Mustard
2 Tablespoons honey
1/3 cup extra virgin olive oil
3 Tablespoons Maille White balsamic vinegar
Kosher salt and black pepper to taste
2 Applewood smoked bacon slices, cut into 1/4 inch crosswise pieces
4 cups rough chopped Belgian endive
2 small Fuyu persimmons, diced
1/4 cup chopped toasted pecans
1 ounce Parmesan cheese, shaved
Instructions
For Quinoa Cook quinoa according to package directions, about 20 minutes. Let cool and fluff with a fork.
For Browned Mustard and Honey Dressing: Preheat oven to 325. Line a small baking sheet with foil and spread mustard on the prepared baking sheet about a 1/4 inch thick. Bake mustard until a crust forms and the mustard is slightly firm, about 10 minutes.
Meanwhile in a small skillet brown the honey over medium heat until lightly golden, about 4 minutes. Let both the mustard and honey cool.
Transfer honey and mustard to a blender or small food processor; add the olive oil, vinegar, salt, and black pepper, whirl until dressing emulsifies.
For Salad and To Assemble: Cook bacon in a small skillet over medium heat stirring occasionally until crisp. With a slotted spoon transfer bacon to paper towels to drain.
Arrange 1 cup Endive onto each of 4 salad plates. Divide quinoa, persimmons, pecans, and bacon onto each.
Drizzle each with desired amount of prepared dressing and also top with the shaved Parmesan cheese.