Creamy Greek Sausage Dip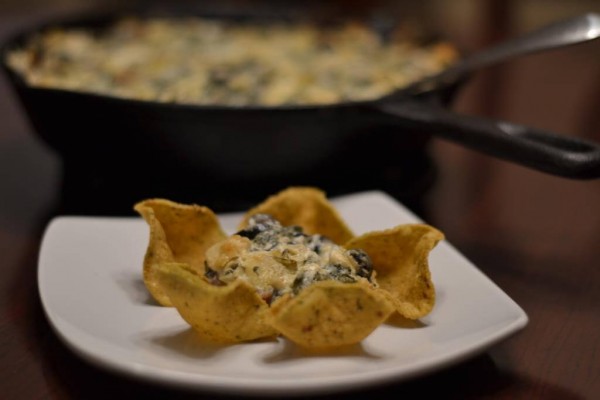 Lighten up this fantastic dip or spread by using "light" versions of otherwise high calorie ingredients and use chicken based sausage instead of pork. This is homey and yummy without all of the guilt. I like to serve it with corn chips but you could lighten it up even more by serving it with vegetables.
Ingredients
9 oz bag fresh baby spinach
8 oz light cream cheese
5 oz goat cheese
1 cup pitted calamata olives, sliced into rounds
2 cups roughly chopped marinated artichoke hearts
¼ cup light sour cream
¼ cup light mayonnaise
1 lemon, zest and juice
1 tsp minced garlic
4 scallions (white and light green parts only), thinly sliced
4 chicken with spinach & feta sausage, cooked, halved long ways, thinly sliced into half moons
Kosher salt
Freshly ground black pepper
Olive oil
Instructions
Heat oven to 375. Toss baby spinach only a medium sized rimmed baking sheet and wilt in oven for about 5-7 minutes. Allow to cool then, with your hands, squeeze out as much moisture as possible and roughly chop. Place in a medium mixing bowl.
In a small saucepan over medium – low heat, melt the cream and goat cheeses. Add to the mixing bowl with remaining ingredients. Stir well. Spoon into an oiled cast iron skillet or glass casserole dish (about 9" x 9"). Drizzle with olive oil and bake until bubbly, about 25 minutes.