Dijon Panzanella Salad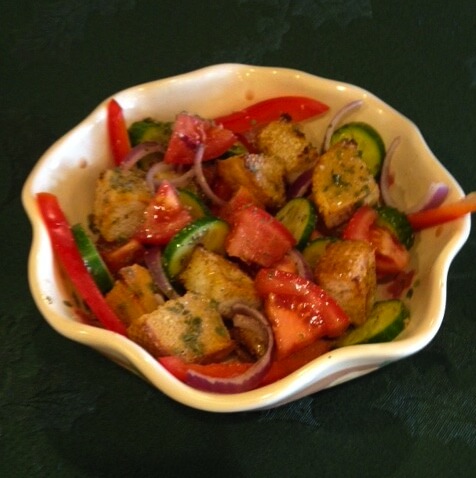 This is like a garlic bread salad. So Yummy!
Ingredients
8 slices artisan or ciabatta bread, 1 inch thick
2 Tablespoons , plus 2 teaspoons Maille Dijon Originale Mustard
2 Tablespoons grated Parmesan Cheese
1-1/2 pounds vine ripe tomatoes
3 mini cucumbers
1/2 small red onion, thinly sliced
1/2 red pepper, cut into thin strips
1/3 cup Maille Extra Virgin Olive Oil
1/4 cup Maille White Balsamic Vinegar
1 1/2 teaspoons parsley flakes
Instructions
Heat oven to 400 degrees.
Set 2 teaspoons of the mustard aside. Spread the remaining mustard on both sides of the bread slices. Sprinkle both sides of the bread with parmesan cheese. Cut bread into 1 inch cubes.
Spread bread cubes on a rimmed baking sheet sprayed with non-stick cooking spray. Bake 5 to 7 minutes or until light golden brown. Turn bread cubes once during baking time. Let cool on a wire rack
Cut tomatoes into bite-size pieces and cucumbers into 1/2 inch slices and transfer to a large bowl. Add sliced onion and red pepper strips.
In small bowl combine olive oil, balsamic vinegar and mustard that was set aside. Whisk constantly until dressing is well mixed.
Add cooled bread cubes to the large bowl and lightly toss. Drizzle dressing over. Sprikle parsley flakes over salad. Add salt and pepper to taste.
Notes
You can add other vegetables, cheese and meats to mix it up.
The Maille Dijon Originale Mustard on the bread adds so much flavor!