Egg and Sausage Brunch Spring Rolls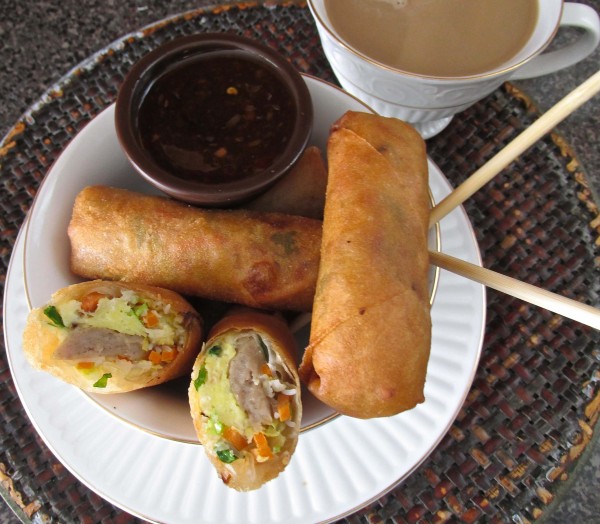 Everyone in my family loves spring rolls. These crunchy, savory and sweet spring rolls will soon become a family tradition.
Ingredients
4 cups napa cabbage, shredded
3/4 cup carrot match sticks
3 green onion stalks, chopped
1/2 Tablespoon red pepper flakes
2 garlic cloves, grated
1 Tablespoon ginger, grated
2 ounces rice noodles, softened with warm water
12 maple pork sausage links, thawed & sliced in half
5 eggs scrambled soft - seasoned with salt & pepper to taste
24 spring roll wrappers
egg wash
Oil for deep frying
1/3 cup maple syrup
1/4 cup sweet chili sauce
1 Tablespoon Bonne Maman Fig Preserves
3 tablespoons soy sauce
Instructions
Preheat deep fryer to 350 degrees F.
Combine cabbage, carrots, green onion, pepper flakes, garlic, ginger and rice noodles in a large mixing bowl. Mix well.
Build your spring roll: Lay the egg roll wrapper out like a diamond on dry surface. Place a handful of the cabbage mixture in the middle of the egg roll, top with egg and sausage; fold and roll. Add a little egg wash at the top and seal.
Place spring rolls in the deep fryer. Remove once they're golden brown all over and are floating to the top. Repeat in batches.
In a small bowl, combine dipping sauce ingredients. Serve spring rolls with dipping sauce.