Greek Quesadillas with Tzatziki Sauce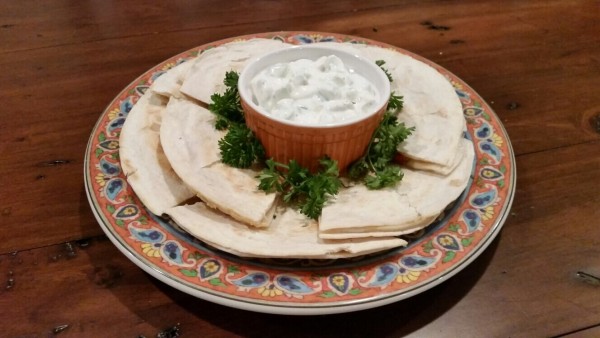 This is a much healthier version of the classic quesadilla recipe we all know.
Ingredients
1 1/2 cups peeled cucumber, seeds removed, chopped and patted dry
3/4 cup greek yogurt
1 tablespoon lemon juice
3/4 teaspoon dried dill weed
1 (15 ounce ) can garbanzo beans, drained, liquid reserved
2 tablespoons olive oil
1/2 teaspoon ground cumin
2 - 3 cloves garlic, finely minced
1 tablespoon lemon juice
Pinch or more crushed red pepper flakes
12 8-inch flour tortillas
1/2 cup bottled roasted red peppers, sliced and patted dry
1 1/4 cup crumbled feta cheese
Instructions
For the Tzatziki Sauce: Mix all ingredients until well blended . Refrigerate at least one hour.
For the Hummus: Put all ingredients in blender or food processor except reserved garbanzo bean liquid and pulse until mixture is fairly well blended. It will be dry. Add bean liquid tablespoon by tablespoon blending in between each addition until it is of spreading consistency. Set aside in refrigerator.
To Assemble Quesadillas and Cook: Spread hummus on 6 of the 12 flour tortillas. Layer with red peppers and sprinkle with feta cheese. Cover each tortilla with another tortilla and grill on both sides over medium heat in a lightly greased skillet until golden brown. Cut each tortilla into wedges and serve with Tzatziki Sauce.