Grilled Stone Fruit with Ricotta and Balsamic Fig Glaze
Posted in:
Desserts
,
Appetizers
,
Side Dishes
,
Grilling
Tagged:
nectarine
,
Cheese
,
Ricotta
,
Peach
,
fig
,
SummerGrillingRecipeContest
,
balsamic vinegar
,
grilling
,
stone fruit
,
plum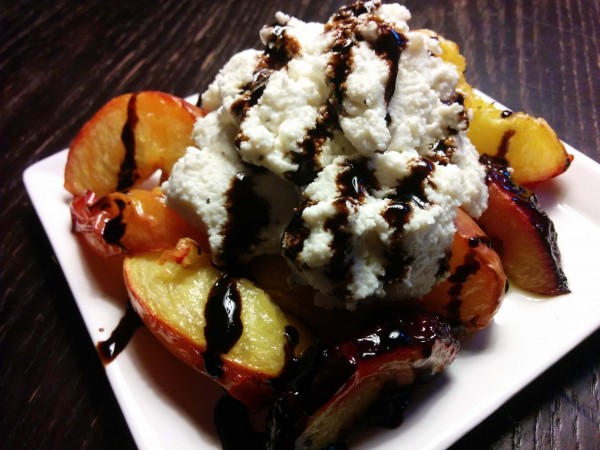 A grilled stone fruit recipe showcasing the best of summer's bounty.
Ingredients
4 cups whole milk
2 cups heavy cream
3 Tablespoons white vinegar
salt and pepper to taste
For the balsamic fig glaze,
1 cup fresh figs
2 cups high quality balsamic vinegar
6 fresh peaches
6 fresh nectarines
6 fresh plums
1/4 cup extra virgin olive oil
pinch of salt
Instructions
Start making the ricotta. Add the milk, cream and vinegar to a stockpot or large saucepan and bring to a boil. Once curds have formed, scoop the ricotta into a cheesecloth-lined strainer and set that in the sink or over a large bowl to drain. Squeeze out as much liquid as you can. Salt and pepper to taste.
Start making the glaze. Pulse the figs and balsamic vinegar in a food processor and then pour the mixture into a saucepan and bring to a boil. Reduce heat to a simmer and let the mixture reduce by two thirds, or until it's about the thickness of chocolate syrup. Pour through a fine mesh strainer into a small bowl, pushing down on the mixture to get all the glaze through. Set aside.
Preheat the grill. Cut each piece of fruit into 8 sections and discard the pits. Toss in a bowl with the olive oil and salt. Grill for 3-5 minutes per side, or until softened and glistening.
To assemble, evenly distribute the grilled fruit among each of 6 plates, top with a few tablespoons of warm ricotta and drizzle with balsamic fig glaze.
Notes
I used these fruits because I had them on hand, but you can use any stone fruit you prefer. Absolutely every component of this dish can be done on the grill, but you can certainly make the ricotta and fig glaze on the stovetop if you prefer.