Herb Scented Potato, Asparagus, and Smoked Oyster Pizza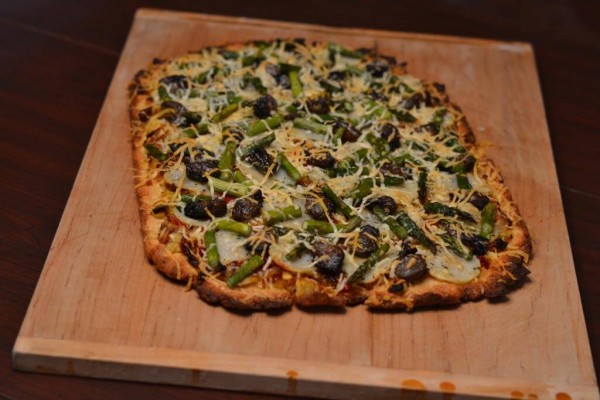 This "grown up" pizza is outstanding. The flavors may be unusual but they come together to make a fantastic appetizer or meal. Serve it with a nice beer or big red wine.
Ingredients
Your favorite 16" pizza crust, pre-baked
1 very large onion, halved & thinly sliced
2 Tbsp finely minced garlic
Olive oil
2 oblong russet potatoes, peeled & sliced into 1/8" rounds
1 Tbsp chopped fresh oregano
1 tsp chopped fresh marjoram
1 tsp chopped fresh tarragon
1 tsp Kosher salt
½ tsp Black pepper, freshly ground
1 cup roughly chopped marinated artichoke hearts
½ cup julienned sundried tomatoes
6 oz pecorino cheese, finely grated
1 bunch of asparagus, tough ends removed and cut into 1" pieces
2 – 3.75 oz cans smoked oysters, liquid reserved
Instructions
In a large skillet over med-low heat caramelize the onion and garlic in a generous amount of olive oil until a dark golden brown, about 20-30 minutes, stirring frequently.
Meanwhile, toss the potato slices with olive oil and the fresh herbs. Spread out on a baking sheet and sprinkle with salt and pepper. Roast in a 450 oven until just cooked, about 10 minutes.
Once the onions are caramelized, stir in the artichoke hearts and sundried tomatoes. Taste and add salt and pepper to taste.
Increase the oven temperature to 500. Place a rack in the center. Spread the onion mixture all over your pre-baked pizza crust, leaving about 1" from the edge. Evenly sprinkle half of the pecorino cheese over the onion mixture. Place the potato rounds, in a single layer, around the pizza. Distribute the asparagus and smoked oysters. Sprinkle the rest of the cheese evenly. Drizzle the pizza very lightly all over with the reserved liquid from the smoked oysters then very lightly with olive oil. Place in the oven and bake for about 15 minutes or until the edges of the crust are very brown and the cheese is golden.