Insanely Good Chicken Sausage Broccoli Cole Slaw Panini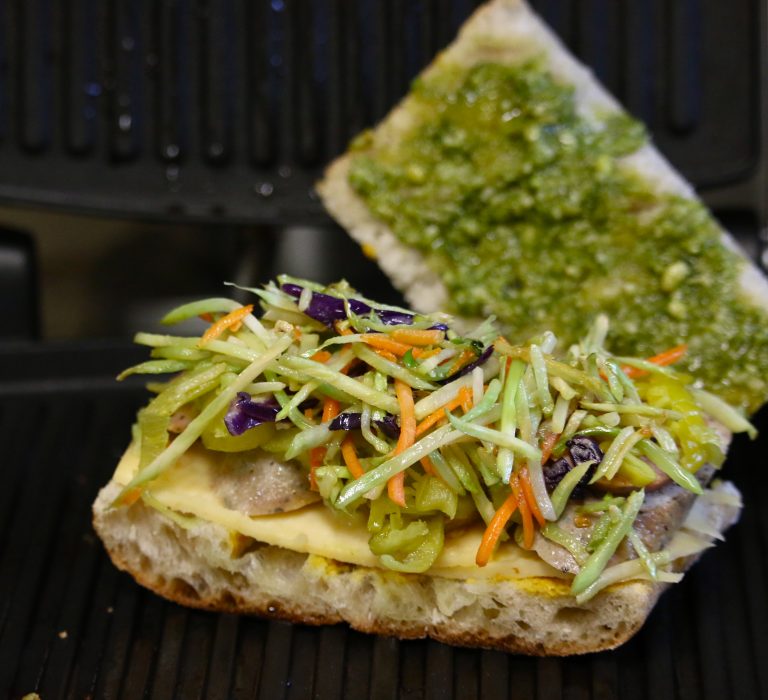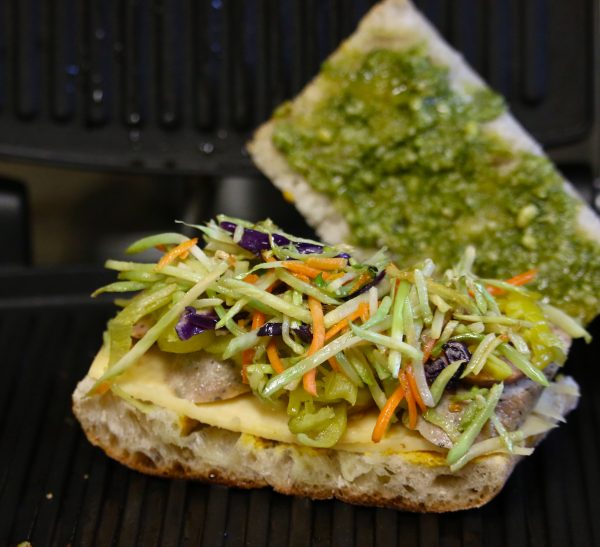 BOOST the nutrition in your next Panini! Insanely delicious ~ crazy simple! My family couldn't get enough of this tasty Chicken Sausage Broccoli Cole Slaw Panini!
Ingredients
2 tablespoons creamy garlic mustard or as needed
2 Ciabatta rolls, sliced open
4 slices gouda cheese or as needed
2 chicken basil sausages, cooked, sliced
1/3 cup deli-sliced pickled peperoncini
2 tablespoons refrigerated prepared pesto sauce or as needed
1-2 cups Mann's Broccoli Cole Slaw®
2 tablespoons olive oil
Instructions
Heat a Panini grill machine to medium high or coat a large non-stick skillet over medium heat with cooking spray.
Spread mustard on bottom sides of Ciabatta rolls, and layer with cheese and sausage, and peperoncini, and broccoli slaw. Spread pesto on cut side of top rolls to cover sandwich filling. Brush olive oil on bottom and top of sandwich.
Place sandwiches in Panini grill, close and cook until cheese begins to melt, about 5 minutes. Alternative: Place sandwiches on hot skillet, and using a flat metal spatula firmly press down; cook for 3 minutes or until nicely browned. Flip sandwiches and cook on other side, pressing down with spatula, for another 3 minutes or until nicely browned. Slice sandwiches on the diagonal.
Notes
Notes: I love to buy fresh chicken sausage cook it indoors on a grill pan. Place sausages on a hot pan over high heat, and cook until grill marks appear. Adjust heat to medium low and add 2 tablespoons water, cover, and steam, until chicken sausage reaches 160 degrees F./70 degrees C.  

If desired, in a medium-hot skillet, sauté the broccoli cole slaw in 1/2 tablespoon olive oil for 1 minute to soften.