Italian Sweet Potato Waffle Snacks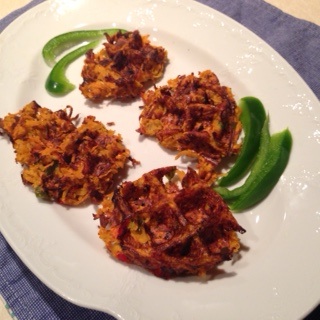 These savory Italian Sweet Potato Waffle Snacks are a fun treat when dipped in tomato sauce!
Ingredients
2-1/2 cups of shredded raw Sweet Potatoes (about 2 medium)
1 medium egg
1/2 teaspoon basil
1/4 teaspoon oregano
1/2 teaspoon red pepper
1/8 teaspoon fresh ground pepper
1/2 teaspoon onion powder
1/4 teaspoon sea salt
cooking spray
Instructions
Plug in waffle iron to get ready for waffles. If you do not have a waffle iron you can always use a griddle or fry pan. In food processor shred raw sweet potato or use a hand grater. Place shredded sweet potato in medium bowl. Add egg and mix well. Add basil, oregano, red pepper, ground pepper, onion powder and Sea salt to bowl. Mix until blended well.
Spray waffle iron well with cooking spray. Remember to spray after each batch you Make. Drop a heaping ¼ cup on each square. I have a 4 square waffle iron some waffle irons have 2. If you only have 2 you can keep the waffles smaller or make larger ones. I have a flip waffle maker and I cooked my waffles 4 minutes each side until crispy. Keep checking every 3 minutes. Your waffles should be crispy and well browned. Remove from waffle iron and serve immediately. If you have leftovers just pop in the toaster oven to crisp back up. These are delicious as they are but are great with a little tomato sauce, or for a more Sweet taste drizzle with a little pure maple syrup. They are great for making ahead, putting in the freezer, for a snack or lunch.