Japanese-style Pancake with Okonomiyaki Sauce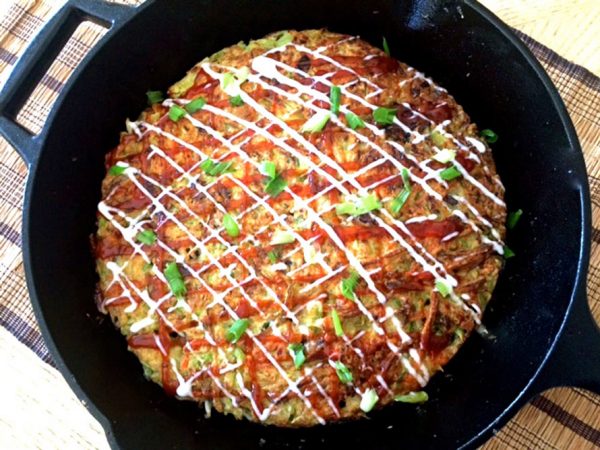 This quick, easy and authentic Japanese dish is the perfect addition to your brunch or lunch menu, implementing all food groups in one delicious bite! With Mann's broccoli cole slaw, you can make this traditional Japanese dish in only 20 minutes.
Ingredients
Okonomiyaki sauce ingredients:
2 Tbsp ketchup
2 Tbsp worcestershire sauce
1 Tbsp soy sauce
2 tsp honey
1 tsp rice vinegar
½ tsp ground ginger
Japanese mayonnaise ingredients:
1/4 cup good quality mayonnaise
1 tsp rice vinegar
1 tsp sugar
Japanese Pancake ingredients:
1-12 oz package Mann's broccoli cole slaw
1/3 cup green onions, thinly sliced
1 tsp kosher salt
1/8 tsp black pepper
1/4 cup all-purpose flour
4 large eggs, lightly beaten
2 Tbsp peanut oil
2 Tbsp green onions, thinly sliced diagonally
Instructions
In a small saucepan, bring okonomiyaki sauce ingredients to a boil; simmer for about 1 minute or till slightly thickened; set aside.
In a small bowl, mix Japanese mayonnaise ingredients till smooth; set aside.
In a medium bowl, combine Mann's broccoli cole slaw, 1/3 cup green onions, salt and pepper; add flour, completely coating slaw ingredients; add eggs and gently mix to combine.
In a 10" cast iron skillet, heat oil; pour egg/slaw mixture and press down; cook over medium/high heat for 5-7 minutes or till golden on bottom side (check by lifting carefully with a large spatula); Carefully (because skillet is ver hot) flip pancake* onto a heat proof plate; slide back into skillet to cook other side and cook over medium/high heat for another 5-7 minutes or till golden and crispy.
To serve, place sauces in individual piping bags (or zipper bags) and pipe over pancake in either zigzag or round stripes. Garnish with remaining green onions and serve. Enjoy hot or cold!
Notes
* You may be able to flip over entire pancake using a large round spatula without flipping pancake over to another plate; if flipping over to another plate and sliding it back into the cast iron skillet, be careful, skillet is very HOT.