"Knish Me" Corned Beef Potato Salad with Dijonnaise Dressing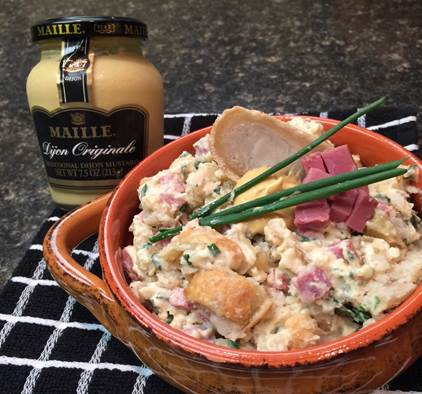 Born and raised in New York, one of my favorite deli lunch selections was a corned beef sandwich with mustard and knish, split with mustard. This celebrates these favorites in a delicious potato salad featuring Maille's Originalle Dijon Mustard. Living in Florida, knishes are not well known and difficult to find in certain areas. I hope this will encourage our supermarkets to carry our well loved knishes.
Ingredients
1/8 cup sour cream
1/8 cup mayonnaise
2 tablespoons Maille Dijon Originalle Mustard
1 teaspoon sugar
1 tablespoon white balsamic vinegar
4 tablespoons chopped fresh chives
½ teaspoon ground black pepper
2 ounces deli corned beef, diced
3 potato knishes, cooked and cooled to room temperature, cut into bite size pieces*
Instructions
In a medium bowl whisk sour cream, mayonnaise, Maille Dijon Originalle Mustard, sugar, vinegar, chives and pepper until well blended.
Fold in the corned beef and potato knish pieces until well distributed.
Chill for 30-60 minutes before serving. Enjoy!
Notes
*Note – I was not able to get fresh cooked knishes and had to buy a frozen variety. If you are fortunate to find already prepared knishes, you get the luxury of skipping the cooking stage and go straight to the cutting board!