Mann's Manic Monday Chicken "Fried Rice"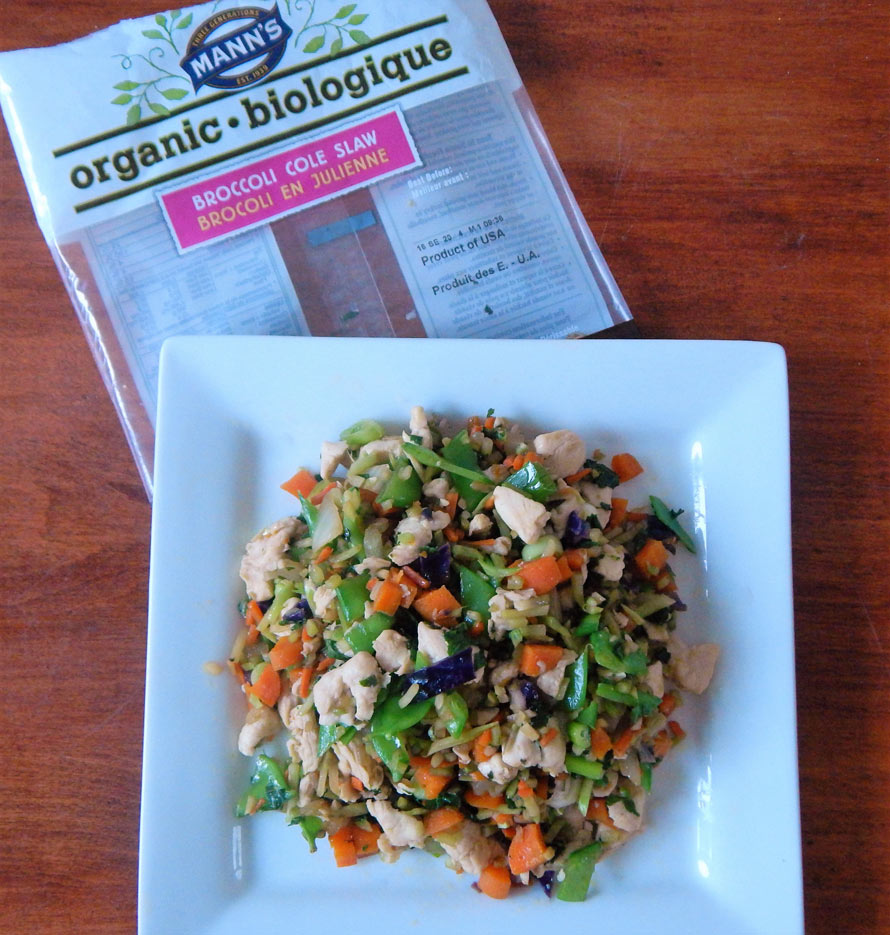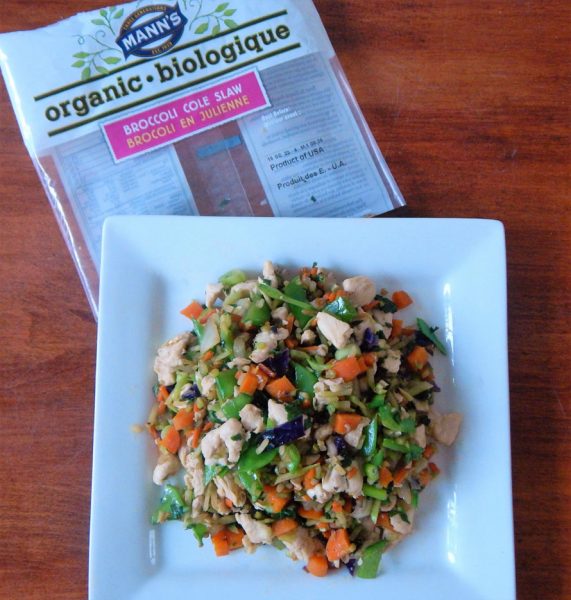 Monday is my manic day.  There is so much to do and so little time to get all done!  Thankfully, Mann's has just made dinner super easy on those crazy days!  So ditch the drive thru.  Toss the take out menu.  Instead, stir up something fresh and healthy in a matter of minutes (seriously).  Broccoli slaw is the base for my "fried rice".  Ditch the carbs on this meal and replace the rice with flavorful and good for you broccoli slaw.  The texture is perfect.  The taste is authentic.
Ingredients
1 pound chicken tenders, meat removed from tendon, chopped
1 tablespoon olive oil
1 cup diced yellow onion
1 cup diced carrot
1 tablespoon olive oil
2 cloves garlic, minced
1 cup finely chopped kale leaves
10 oz. bag Mann's Organic Broccoli Cole Slaw
1 tablespoon butter
1 & 1/2 tablespoon soy sauce
1 teaspoon oyster sauce
1/4 teaspoon sea salt
1/8 teaspoon ground black pepper
1 cup sliced snow peas, cut width wise, 1/4" thick, on a diagonal
1/2 cup thinly sliced scallions, white and green parts
Instructions
Place the chopped chicken and one tablespoon olive oil into a skillet. Cook over medium heat fro 4-5 minutes, or until cooked through. Stir occasionally. Remove the chicken to a bowl; set aside.
While the chicken is cooking, prep the broccoli slaw. Place the contents on the broccoli slaw package into a food processor. Pulse several times until the slaw resembles rice. You may also use a sharp knife to cut the slaw into small pieces. Again, all of the slaw should be the size of grains of rice. Set aside for later use.
Place the diced onion and carrot, along with one tablespoon of olive oil into the skillet. Saute for 4 minutes. Add in the minced garlic; saute and stir for an additional minute.
Add in the kale, prepped broccoli slaw, and butter. Saute for 4 minutes. Add the cooked chicken and all of the remaining ingredients (soy sauce, oyster sauce, salt, pepper, snow peas, and scallions) into the skillet. Cook for an additional 3-4 minutes, stirring very frequently. Serve immediately.
Notes
You can switch out the chicken and add thin beef slices, shrimp, tofu, or your favorite protein source. You can also add a wide variety of your favorite vegetables to this healthy mix.