Mann's Morning Glory Crumb Muffins with Honey Orange Butter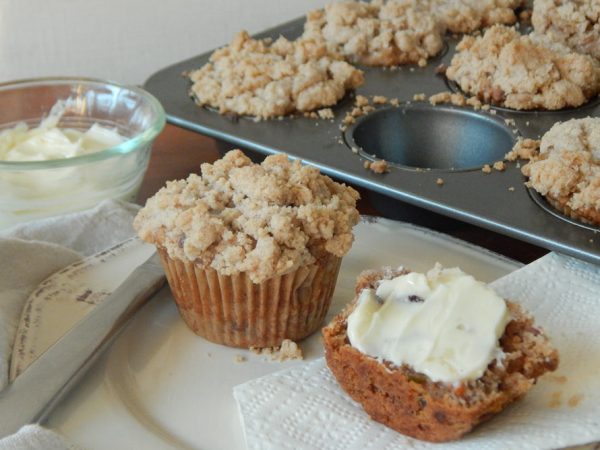 This sweet and savory breakfast muffin will fuel your morning thanks to a huge nutritional boost from Mann's Broccoli Slaw.   Chock full of sweet and savory bits, these early morning treats are the perfect grab and go breakfast for adults and kids alike!
Ingredients
10 oz. package Mann's Organic Broccoli Slaw, finely chopped
1 cup grated Gala apple (1 medium sized apple, skin on)
1/2 cup raisins
1/2 cup golden raisins
1/2 cup roughly chopped walnuts
2 tablespoons flax seed
1 vanilla bean, insides scraped, pod discarded
2 tablespoons roasted, salted sunflower seeds
1/2 cup unsweetened flaked coconut
1 cup granulated sugar
1 cup coconut oil, melted, cooled for 5 minutes
2 eggs
2 medium ripe bananas, (1 cup), broken into small chunks)
1/2 tablespoon baking powder
1/2 teaspoon sea salt
1 tablespoon cinnamon
1/2 teaspoon ground ginger
2 1/3 cups all purpose, unbleached flour
zest of 1 orange
3/4 cup granulated sugar
3/4 cup all purpose, unbleached flour
1 stick, (1/2 cup) cold salted butter, cut into cubes
1 teaspoon cinnamon
1 stick (1/2 cup) salted butter
zest of 1 orange
2 tablespoons honey
1 tablespoon powdered sugar
1 vanilla bean, inside scraped, pod discarded
Instructions
Preheat the oven to 350 degrees. Place parchment paper muffin liners into 16 muffin spots in two muffin tins (I would do 8 in each pan for even cooking). Set aside. Place one package of Mann's Organic Broccoli Slaw into a food processor and pulse until the slaw is the size of cupcake sprinkles. You may also use a sharp knife and run the knife through the slaw several times until the same small size is achieved. Place into the bowl of a stand mixer. Grate one gala apple (with skin on) over the bowl. Add in the raisins, walnuts, flax seed, vanilla bean, sunflower seeds, coconut, and sugar. Melt the coconut oil in a small pan over low heat. Allow to cool for 5 minutes at room temperature. Pour into the bowl. Add in the eggs and with the paddle attachment for the stand mixer, mix all of the ingredients together until combined, about 1 minute. Add in the banana chunks, and with a rubber spatula, fold into the mixture (you want chunks to remain). In a separate bowl, sift together the baking powder, sea salt, cinnamon, ginger, flour, and orange zest. Gradually add the dry mixture into the wet, folding the two together with a rubber spatula until just combined. Do not overmix. Spoon the mixture evenly among the 16 muffin cups (cups will be filled to the top). Set aside.
To make the crumb topping, add the flour, sugar, and cinnamon to a bowl. Cut apart the butter into small chunks. Using a pastry blender or your hands, mix together until large crumbs form (it will take a minute or two). Sprinkle the crumbs evenly over the muffins. Gently press the crumbs into the batter (only a tiny bit, do not submerge the crumbs). Bake for 30-35 minutes or until a cake tester inserted into the middle of the muffins comes out clean. Allow to cool for 10 minutes before transferring to a cooling rack.
Place one stick of refrigerator cold butter into the bowl of a stand mixer fitted with a paddle attachment. Cream the butter together until light and fluffy, about 2 minutes (be sure to scrape down the sides as needed). Add in the orange zest, honey, vanilla bean, and powdered sugar. Mix for one minute longer until all of the ingredients are combined. Serve the butter alongside the slightly warm muffins.