Maui Macadamia Nut Macaroons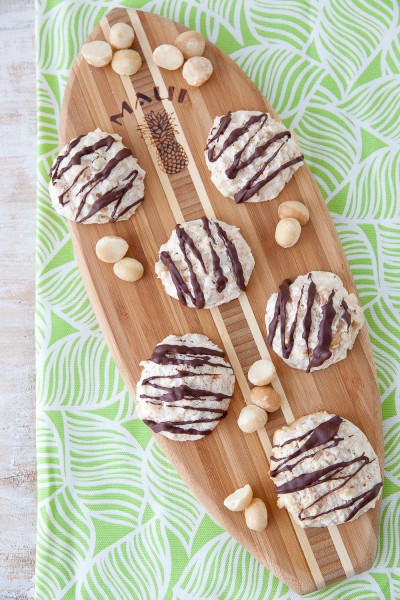 $10,000 Grand Prize winning recipe in the 1994 Premium Saltine "Blue Ribbon" Recipe Contest
Ingredients
2-1/2 cups shredded coconut
1 cup unsalted Macadamia nuts, chopped
1 can (14 ounces) sweetened condensed milk
1 teaspoon vanilla extract
20 Premium Saltine Crackers, finely crushed
2 egg whites
Vegetable oil cooking spray
6 ounces semi-sweet chocolate, melted
Instructions
Place coconut and nuts on a rimmed baking pan. Bake at 350 degrees until lightly toasted, about 10 minutes, stirring frequently. Cool.
In a large bowl, combine milk and vanilla. Stir in coconut mixture and crushed crackers; blend well. Beat egg whites until stiff, then gently fold into coconut mixture. Drop by rounded tablespoons onto lightly greased baking sheet.
Bake at 350 degrees for 12 to 14 minutes or until golden around edges. Cool completely. When cool, dip cookie bottoms into melted chocolate and place on waxed paper. Refrigerate until set.