Mexican Street Corn Chicken Chili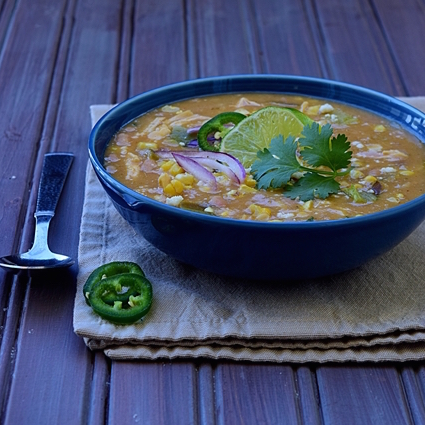 All the intense and exciting flavors of the street food favorite immersed in a velvety base of white chili beans, freshly roasted Anaheim chilies, and tender poached chicken.
Ingredients
6 Anaheim chilies
6 ears fresh corn, husked
1 lb boneless, skinless chicken breasts
1 quart chicken stock
1/2 Cup Mexican beer (optional)
1 bay leaf
2 jalapenos
4 cloves garlic, peeled
2 Tablespoons olive oil
1/2 stick salted butter
1 sweet onion, diced
1 red onion, diced
4, 14-1/2 ounce cans white chili beans
1 Tablespoon Ancho chili powder
2 tsp cumin
salt and pepper
3 limes
1 bunch cilantro
1 Cup shredded pepperjack cheese
1/2 Cup Cotija cheese, crumbled
Instructions
Prepare the chilies: Place the chilies on a sheet pan and set under the broiler for 10 to 15 minutes or until the skin is blackened. Turn once to char both sides. Place the chilies in a zip top bag and let them sit for a few minutes, then pull off the skin, discard the seeds, and dice.
Char the corn: Use a sharp knife to remove the corn from the cobs. Place the corn in a hot, dry skillet and cook for a few minutes, stirring occasionally, just until the corn becomes slightly charred. Set aside.
Poach the Chicken: Place the chicken breasts into a pot. Pour in the broth and the beer (if using), along with the bay leaf, 1 of the garlic cloves, and 1 jalapeno sliced in half. Bring the chicken to a bare simmer. Cover and turn off the heat. Allow the chicken to poach in the hot liquid for about ten minutes. Remove the chicken from the broth. Run the broth through a mesh strainer and reserve the liquid. When the chicken is cool enough to handle, shred it up.
Prepare the chili: In the same pot used for the chicken, heat the olive oil and butter. Add the onion, reserving half of the red onion for garnish. Add the remaining garlic cloves. Cook over medium low heat until translucent. In a food processor add one can of the chili beans, ½ cup of the chicken broth, ½ of the cooked onions, the cooked garlic cloves, and 2 tablespoons of the roasted chilies. Puree and add back to the pot. Add the rest of the beans, the green chilies, the corn, the shredded chicken, the broth, the ancho chili powder, and the cumin. Taste for seasonings and add salt and pepper as needed to taste. Allow the chili to simmer for 20 to 30 minutes to marry the flavors. Chop ½ Cup of the cilantro and add it to the chili. Squeeze in the juice of ½ lime, and add the pepper jack. Taste again for seasoning, adding more salt and pepper if needed. Ladle the chili into bowls and top with some raw red onion, fresh jalapeno slices, cotija cheese, fresh cilantro, and a squeeze of lime juice.