Nacho Average Nachos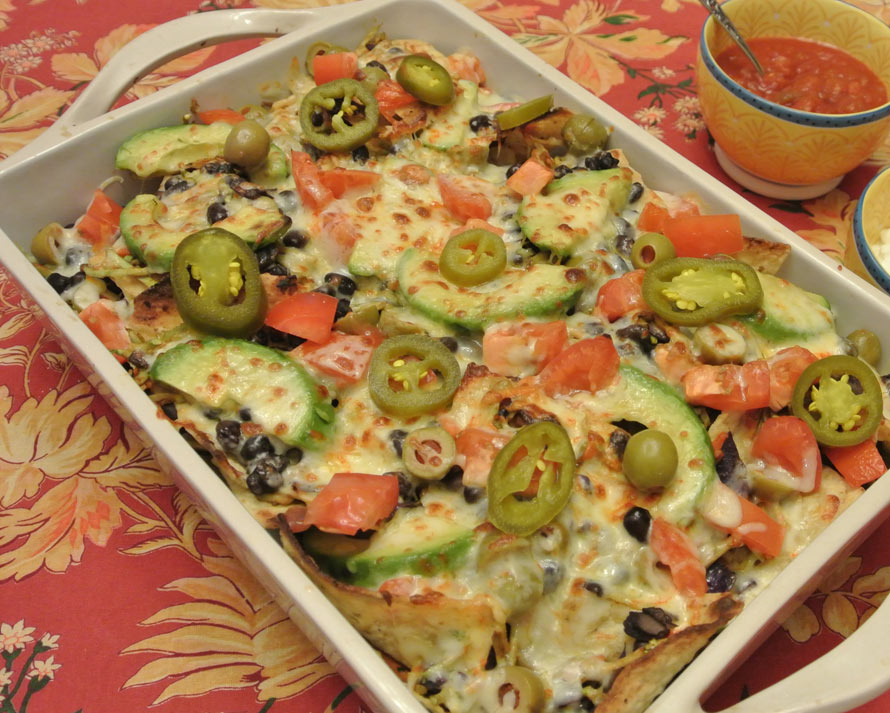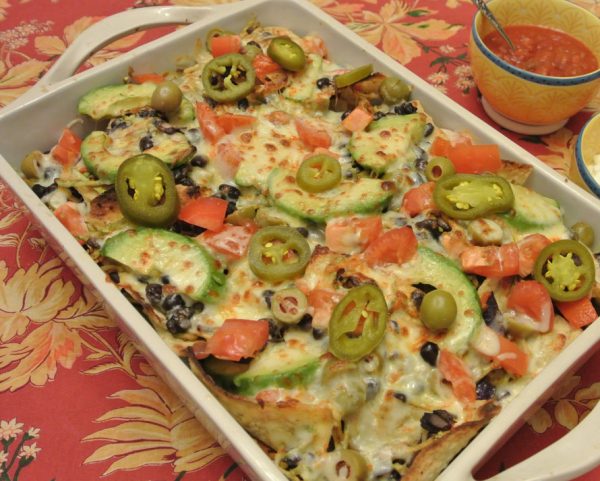 This recipe would be great for the kids as I used a 12 ounce package of Mann's Broccoli Cole slaw and it wasn't noticeable as a veggie which was not my intention but that's how it turned out.  I tossed the Broccoli Slaw with some taco seasoning and sauteed it so that it took the place of meat in the nachos.  My recipe serves 4 and using 12 ounces of Mann's and 2 tablespoons olive oil instead of 12 ounces of hamburger so it saves 200 calories and 9 grams of saturated fat per serving and adds all of your daily requirements for Vitamins A and C, now there's a boost for your nutrition.  So good that I'll be making this time and time again.
Ingredients
2 tablespoons olive oil
1 - 12 ounce package Mann's Broccoli Cole Slaw
1 tablespoon taco seasoning mix
Tortilla chips, about 1/2 party size bag
1 can black beans drained
1 tomato, diced
1/2 cup pimiento stuffed green olives, halved
1 avocado, pitted, peeled and sliced
10 ounces shredded muenster cheese
1/4 cup pickled jalapeno slices
Optional: chunky salsa and sour cream
Instructions
Pre-heat oven to 375 degrees. In a medium bowl toss the Mann's broccoli cole slaw with taco seasoning mix.
Heat a large skillet to medium-high heat and warm olive oil then add the Mann's broccoli slaw with the taco seasoning mix, toss in hot skillet, cook until the Mann's mix softens, about 5 minutes. Remove from heat.
On a 9x13 baking sheet or casserole pan layer about 9 ounces or ½ party size bag of tortilla chips followed by the cooked Mann's mix, black beans, diced tomato, sliced olives and cheese.
Bake at 375 for about 7 minutes or until cheese is thoroughly melted then broil for a minute to get the cheese bubbly and slightly brown. Remove from oven and sprinkle with pickled jalapeno slices. If desired serve with chunky salsa and sour cream.