French "Gateau au Yaourt" – (A No Measure Cake!)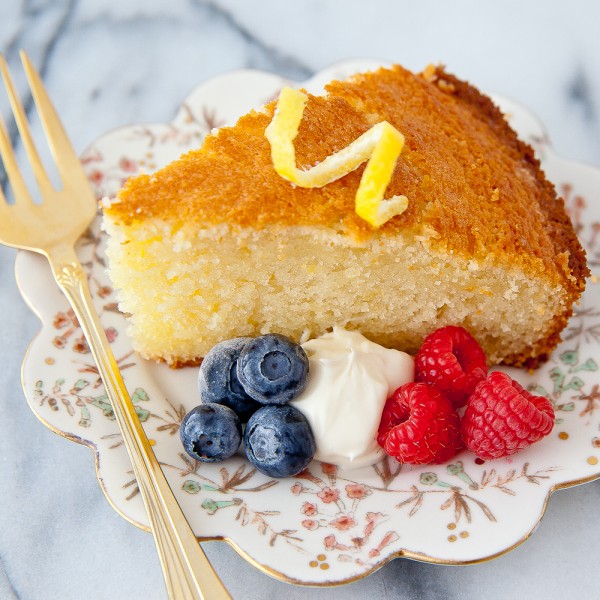 Forget about those measuring cups and spoons! For this recipe you use the yogurt container as a measuring cup for all the ingredients.
For a step-by-step demo of this recipe visit: http://foodevents.about.com/od/Food-Holidays/ss/How-to-Make-French-Yogurt-Cake-for-Bastille-Day.htm
Ingredients
1 container (7 ounces) plain yogurt
2 eggs
2 yogurt containers* of self-rising flour
1 yogurt container* of sugar
1 yogurt container* of oil
Zest of 1 lemon
Non-stick spray for baking
Instructions
Preheat oven to 350 degrees F.
In a large bowl, combine the yogurt and the eggs and beat to combine. Wash the yogurt container to use as a measure for the other ingredients.
Add 2 yogurt containers of self-rising flour, 1 yogurt container of sugar, and 1 yogurt container of oil. Beat to combine.
Zest lemon, add to the batter and mix to combine.
Coat an 8" round non-stick cake pan with cooking spray and sprinkle with a few pinches of sugar. Pour the batter into the pan and bake for 30 minutes, or until golden.
Cake is done when a toothpick is inserted in the center and comes out clean. Allow to cool. Serve with fresh berries and creme fraiche.
Notes
*For the purposes of this recipe, the yogurt container is used to measure all the ingredients. For example, you fill the container twice for the self-rising flour, once for the sugar and once for the oil. There's no need to dirty any measuring cups or spoons!

Adapted from "Gateau au Yaourt" in "The Everything Easy French Cookbook" by Cecile Delarue.