Peanutty Chocolate Caramel Popcorn Bars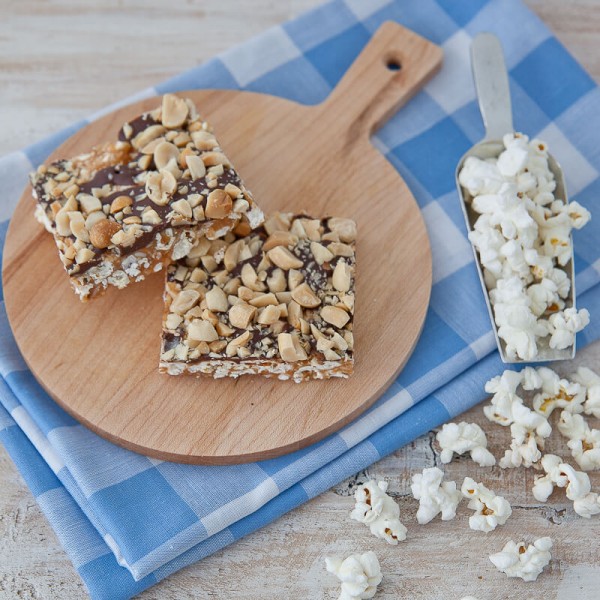 These bars, originally titled "Chocolate-Kist Peanut Caramel Bars" won $10,000 in the 1997 Newman's Own/Good Housekeeping Recipe Contest. The recipe was created by Elsie Wigdahl of Ruthven, IA.
Ingredients
1/4 cup packed brown sugar
1/4 cup granulated sugar
1/4 cup light corn syrup
1/3 cup chunky peanut butter
1 teaspoon water
1 teaspoon vanilla extract
1/2 cup shredded coconut
7 cups Newman's Own popped popcorn
4 squares semi-sweet chocolate, chopped
1/2 cup chopped peanuts
Instructions
Grease a 9 x 13 inch pan.
Combine sugars, syrup, peanut butter, water and vanilla in a heavy 4-quart saucepan. Mix well, bring to a boil and cook for 1 minute. Add coconut and then popcorn. Stir until well coated. Press into pan (use spatula or finger tips to smooth top).
Melt chocolate in microwave for 1 minute. Drizzle over popcorn mixture and sprinkle peanuts on top. Cool. Cut into 24 bars. Store bars in a tightly-lidded container with wax paper between layers.