Pimiento Cheese Sandwiches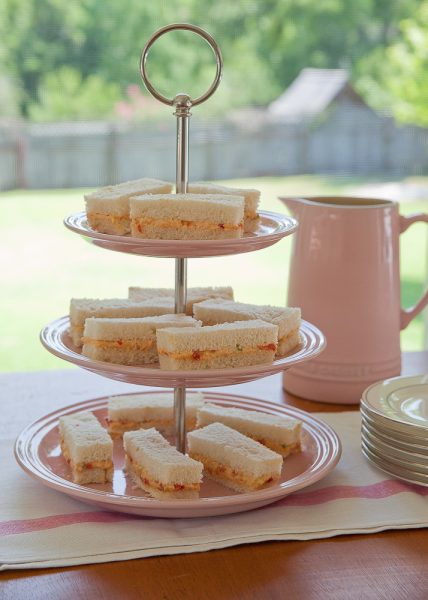 I love making this southern-style pimento cheese quickly and easily in my Cuisinart food processor! For classic presentation, cut the crusts off these pimiento cheese sandwiches and slice into fingers.
The finger sandwiches look especially elegant when served on a 3-tier stand like this one from Le Creuset!
Ingredients
1/2 pound yellow Cheddar cheese
1/2 pound white aged sharp Cheddar cheese
1 cup mayonnaise
1 (4-oz.) jar diced pimiento, drained
1 tsp. Worcestershire sauce
1/4 tsp. ground cayenne pepper
Tabasco sauce, to taste
Instructions
In a food processor fitted with the shredding blade, shred the yellow and white Cheddar cheeses. (My Cuisinart Elemental 11-cup food processor is perfect for this job!)
Remove shredding blade and replace with processing blade. To the shredded cheeses, add mayonnaise, pimiento, Worcestershire sauce, cayenne pepper and Tabasco. Pulse only a few times to combine. Add additional dashes of hot sauce, to taste.
Spread pimiento cheese on white bread and form a sandwich. Cut off crusts and slice into fingers.
Store remaining pimiento cheese in an airtight container in the refrigerator up to 1 week.