Pork And Broccoli Slaw Egg Rolls With Thai Curry Peanut Sauce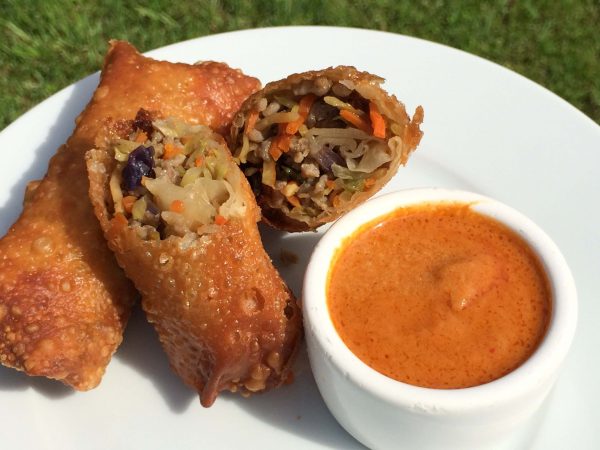 These crunchy egg rolls are filled with ground pork, Mann's Broccoli Cole Slaw, ginger and garlic. They are fried until golden and served with a creamy red Thai curry and peanut dipping sauce.
Ingredients
2 tablespoons vegetable oil
1 pound ground pork
2 tablespoons minced ginger
3 cloves garlic, minced
1/4 teaspoon sea salt
1/4 teaspoon black pepper
1 package Mann's Broccoli Cole Slaw, 12 oz
2 tablespoons low-sodium soy sauce
15 egg roll wrappers
4 cups vegetable oil, for frying
4 tablespoons creamy peanut butter
2 tablespoons Thai red curry paste
1 1/2 cups water
2 tablespoons white sugar
1/8 teaspoon sea salt
Instructions
In a large pan, heat vegetable oil over medium heat. Add ground pork, ginger, garlic, salt and pepper. Cook until pork is browned. Add Mann's Broccoli Cole Slaw and soy sauce. Saute for 8 minutes.
Let pork and broccoli slaw filling cool for 10 minutes.
Lay an egg roll wrapper on a large plate. Brush corners of wrapper with water. Spoon about 2 to 3 tablespoons of the pork and broccoli slaw filling in the middle of wrapper. Fold bottom corner over filling, then fold in side corners. Roll up wrap tightly to enclose filling. Seal roll with top flap. Repeat with other egg roll wrappers.
Pour frying oil into a large pot, and heat over high heat to about 375 degrees F. Using a large metal slotted spoon, gently place rolls in batches (about 4 at a time) into hot oil. Fry until golden brown, about 2 minutes, turning occasionally. Remove and set on paper-towel lined tray.
To the same pan (now empty) that cooked the pork and broccoli slaw filling, add peanut butter, red curry paste, water, sugar and salt to pan. Whisk well and let simmer over medium heat until slightly thickened, about 7 to 10 minutes, stirring occasionally. Remove from heat.
Serve egg rolls with Thai curry peanut sauce.