Potato, Onion and Bacon Tart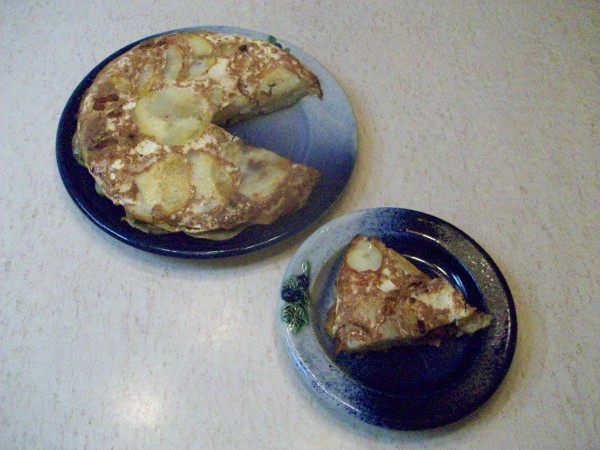 A delicious savory potato dish to be served with any of your favorite meals.
Ingredients
1 large onion, halved and thinly sliced
4 tbs. olive oil, divided
1 tsp. coarse salt
4 large Idaho baking potatoes, peeled
1/4 tsp. fresh ground black pepper
4 strips Applewood smoked bacon, chopped and cooked crisp
1 tsp. fresh thyme, chopped
2 eggs beaten with 1/2 c half and half
3 tbs. unsalted butter, cubed small
Instructions
In a 12" ovenproof skillet on medium heat, add 2 tbs. olive oil and onions and sauté 10 to 12 minutes until cooked through and browned. Slice potatoes thinly and place into a bowl of water to cover while completing slicing to prevent browning. When all sliced, drain and pat dry and sprinkle with remaining salt and pepper. Toss with the onions, bacon and thyme. Wipe onion skillet clean and add 2 tbs. olive oil to skillet and top with sliced potatoes and onion mixture, pressing to make flat. Pout egg mixture over and top with the butter cubes. Bake in a 350 degree preheated oven for 45 minutes. To serve, loosen edges of Tart with knife and turn out onto a serving platter. Cool 5 minutes and slice.