Pumpkin and Broccoli Slaw Cookies with Dark Chocolate Drizzle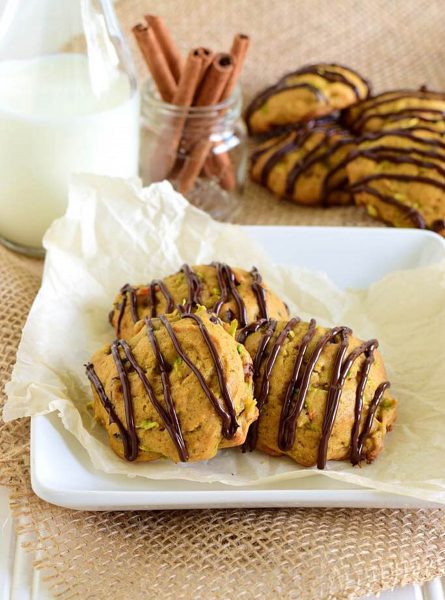 You can have your sweets and eat them too with these delicious pumpkin cookies made with Mann's Broccoli Slaw.  The kids stood at the oven door in anticipation of these soft, delicious treats that filled the whole house with the smells of fall.
Ingredients
1 1/2 Cups Mann's Broccoli Slaw
1 stick salted butter, softened
1/2 Cup brown sugar
1/2 Cup granulated sugar
1 teaspoon vanilla
1 extra large egg
1/2 Cup canned pumpkin puree
1 1/2 Cups all purpose flour
1 teaspoon baking soda
2 teaspoons pumpkin pie spice
2 Cups dark chocolate chips, divided
Instructions
Preheat the oven to 350 degrees. Coarsely chop the broccoli slaw into one inch pieces and set aside.
In the bowl of a stand mixer, add the butter & beat with paddle attachment. Add both the brown and granulated sugar and continue to beat on medium speed until fluffy.
Add the vanilla, egg, and pumpkin puree and mix to combine.
In another bowl, add the flour, baking soda, and pumpkin pie spice. Stir to combine ingredients.
Turn the mixer back on to medium low speed and slowly add the dry ingredients. Mix just until ingredients are incorporated and the batter is smooth.
Remove the bowl from the mixer. Add the broccoli slaw and stir the mixture by hand to evenly distribute the slaw throughout the batter. Do the same with 1 1/4 Cups of the chocolate chips.
Use a scoop to drop heaping Tablespoon sized cookies onto parchment lined baking sheets. Bake for 17 minutes.
Cool cookies on a wire rack. Melt the remaining chocolate chips. Place the melted chocolate into a piping bag or use a fork to drizzle it over the cooled cookies.