Rosemary Mustard Roasted Butternut Squash with Pickled Onions and Bacon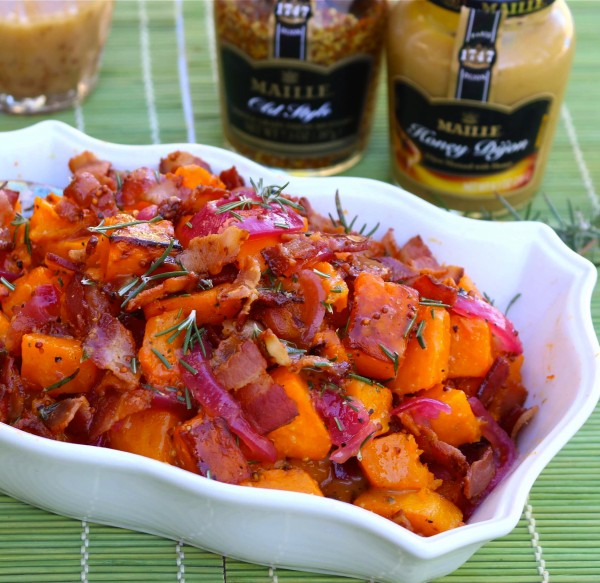 With vibrant colors and contrasting texture and taste, this delicious and versatile dish is always a family & friends favorite! Served hot as a side dish or cold the next day as a salad, this roasted butternut squash is welcomed on any holiday table.
Plus, this dish can be made one day ahead.
Ingredients
2 cups thinly sliced red onions, ¼-inch or less wide, 1 medium onion
2 cups red wine vinegar
2 Tablespoons Maille Old Style Whole Grain Dijon Mustard
1/2 cup granulated sugar
1 Tablespoon sea salt
Rosemary Mustard Vinaigrette
1/4 cup canola oil
1/2 Tablespoon Maille Old Style Whole Grain Dijon Mustard
1/2 Tablespoon Maille Honey Dijon Mustard
3 Tablespoons pickling brine
1 Tablespoon chopped rosemary
1 teaspoon ground coriander
3/4 teaspoon sea salt
1/2 teaspoon granulated garlic powder
1/2 teaspoon black pepper
1 Tablespoon fresh rosemary, chopped, extra for garnish
4 cups 1-inch cubed butternut squash
1/4 cup canola oil
4 slices crisp bacon, broken into bits
Instructions
To make pickled onions: In a 3 quart saucepan, combine red wine vinegar, mustard, sugar, and salt. Bring liquids to a boil.
Add red onions, cover, and cook on low 10 minutes, stirring at least one time.
Remove from heat, drain, and roughly chop.
Reserve brine for vinaigrette. The brine can be used for 1 more pickling! Set aside.
To make butternut squash: Preheat oven to 400°F.
Mix all of the spices, salt, and pepper in a small bowl. On a large rimmed cookie sheet toss butternut squash with oil and sprinkle with spice blend.
Roast undisturbed for 20-25 minutes or until tender.
Toss roasted squash with pickled onions and bacon.
To make mustard vinaigrette: Whisk canola oil, mustards, pickling brine, and rosemary until well combined. Add salt, pepper, and honey to taste.
Pour over butternut squash and toss with vinaigrette.
Garnish with rosemary leaves.